2020 Midterms set to occur at home; unlike any year before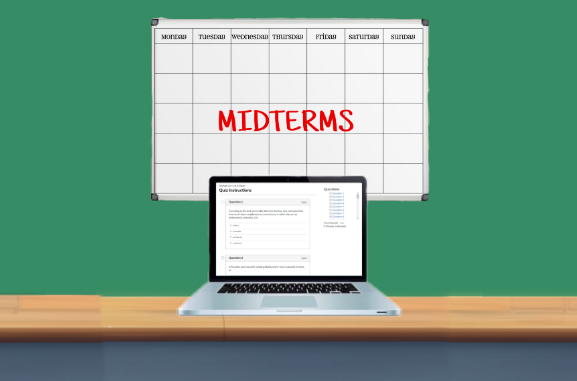 Due to the current pandemic, there have been major changes to both education and schools' approaches towards testing. Since most of the school year has been conducted virtually, there has been a lot of uncertainty about where students will be taking their midterms. With some families choosing to send their children to school, the Marjory Stoneman Douglas administration is allowing the option for every student to test from home. 
To prevent students from cheating and/or misconduct, teachers and instructors will be monitoring their  students by requiring all  cameras to be on and utilizing lockdown browser systems. 
"Although I feel bad for teachers because many students don't turn their cameras on, it is an invasion of privacy when kids are forced to turn their cameras on. Kids can have shared rooms, and many other things going on at home that could make them uncomfortable when turning on their cameras," junior Yali Har-Nov said.
Similar to previous years, students can exempt up to three exams in classes that they have earned at least a B for the first and second quarters. Exemption forms were released  on Monday, Nov. 16 and must be turned in by Tuesday, Dec. 8. Students cannot be exempt from midterms taking place in their advanced placement classes. 
In the upcoming weeks, teachers will be discussing the format of their exams and which days they will administer them, along with providing students with the right resources to study for their midterms. Some have already begun uploading study guides and reviews to aid students in preparing for these tests.
Usually, the school itself administers midterms every year. However, this year they will be taken via Canvas or College Board.
"I would suggest reaching out to specific teachers to get their feedback," Principal Michelle Kefford said. 
Once a student turns in an exemption form, he or she is not allowed to change their decision. If an exemption form is turned in more than once, the individual will not be exempt from any midterm.
If there are any further questions or concerns about upcoming midterms, administration can be contacted for assistance. Both students and parents can find more information on the school's website.