Trump mob causes insurrection on Capitol Hill
After losing the election by more than seven million votes, the Trump administration challenged results in the battleground states of Arizona, Georgia, Michigan, Nevada, Pennsylvania and Wisconsin. Although Vice President Mike Pence's role in the matter serves more as a nod to American history, President Trump hoped Vice President Pence would in some way stop the confirmation proceedings on Jan. 6.
Jan. 6 also served as the day the Georgia senate run-off election results were confirmed. Both Democratic candidates, Jon Ossoff and Raphael Warnock, won Georgia's two Senate seats, giving the Democratic Party the majority in the Senate. 
Earlier in the day, President Trump hosted the "March to Save America" rally in Washington D.C. 
"All of us here today do not want to see our election victory stolen by emboldened radical left Democrats, which is what they're doing and stolen by the fake news media," President Trump said at the event. "That's what they've done and what they're doing. We will never give up. We will never concede, it doesn't happen. You don't concede when there's theft involved." 
Throughout his speech, President Trump encouraged his supporters to march from the Ellipse in President's Park to the United States Capitol in protest of the Electoral College vote. President Trump also persuaded his audience by telling them he would join them in the march, which he ultimately did not. 
Following the event, thousands of Trump's supporters marched to the Capitol. While supporters were marching, law enforcement officials also headed to the Capitol in hopes of making it to there before the crowd, but were outnumbered. With few security measures in place, protesters were able to easily pass through security checkpoints and gain access to the Capitol. Once armed protesters inside, lawmakers had to quickly go into lockdown in a secure location and pause the certification of the election results. 
Members of the protest were armed with weapons like mace, firearms and zip-ties. In addition, many held Confederate and Trump 2020 flags among other gear. While inside the Capitol, protesters wreaked havoc. Protestors invaded the offices of Congress members and Capitol Chambers, injured Capitol Police, replaced American flags with Trump flags and stole valuable items like laptops and Speaker of the House Nancy Pelosi's lectern podium. 
President Trump also came under fire after it was reported that he refused to mobilize the National Guard, which would serve as backup to D.C. Metro and Capitol Police. While being held in a secure location, many Democrats called on President Trump to call his supporters to leave the Capitol. 
"We are calling on President Trump to demand that all protestors leave the U.S. Capital and Capitol Grounds immediately," Senate democratic leader Chuck Schumer and House Speaker Nancy Pelosi said in a joint statement.
Two days after the insurrection of the Capitol, President Trump issued a series of tweets and even called rioters patriots. "The 75,000,000 great American Patriots who voted for me, America first, and Make America great again, will have a giant voice long into the future," Trump tweeted on Friday. "They will not be disrespected or treated unfairly in any way, shape or form!!!"
A few hours after the Capitol was overtaken, President Trump's Twitter account was banned for 12 hours. The unbanning of his account was contingent on his deletion of a series of tweets that Twitter felt violated their Terms and Conditions. Throughout his presidency, President Trump has used Twitter as a major platform to express his opinions and policies. 
Twitter also established that any further violations of their Terms and Conditions would result in President Trump's account being permanently banned. On Jan. 8, Twitter announced that after formal investigation, President Trump's Twitter account would be permanently banned.
Since the riots, four rioters and one officer have passed away, with 56 officers having received injuries. A total of 82 rioters have been arrested. After law enforcement officials regained control of the situation and cleared out the Capital, lawmakers resumed certifying the 2020 election results, finishing around 4:30 a.m. on Jan. 7.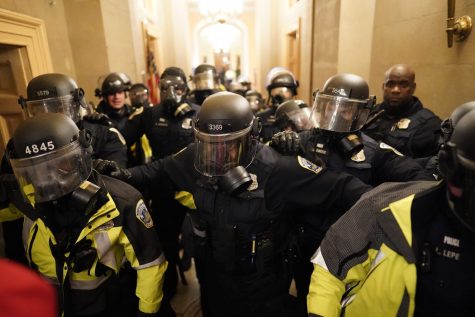 Following the day of the riot, politicians in both the Democrat and Republican party publicly shamed and blamed President Trump for his behavior, as they felt it incited a riot.
"There is no question in my mind that [Trump] was — he was responsible for inciting this, this riotous mob. This was an insurrection," Maryland Gov. Larry Hogan said on Jan 10 in a CNN interview. "You know, they stormed the Capitol, and threatened to kill the vice president and put the lives of people in danger. And he had a huge part, a huge role to play in that." 
Since these events took place at the Capitol, there have also been many reports of Vice President Pence invoking the 25th Amendment or Congress to impeach President Trump. To invoke the 25th Amendment, Vice President Pence would have to have the support from the majority of the President's Cabinet. With cabinet members resigning, many worry that Vice President Pence may no longer have the majority in the President's cabinet. 
Since the insurrection of the Capitol, 11 officials have resigned from the Trump administration. Some of the officials have included Assistant Attorney General Eric Dreiband, Deputy White House Press Secretary Sarah Matthews, Social Secretary Rickie Niceta, Secretary of Education Besty DeVos, and Secretary of Transportation Elaine Chao.
On Monday, Jan. 11, the House of Representatives announced they would vote on an article later this week to impeach President Trump by charging him with "incitement of insurrection." 
"…President Trump gravely endangered the security of the United States and its institutions of Government. He threatened the integrity of the democratic system, interfered with the peaceful transition of power, and imperiled a coequal branch of Government," the House articles of impeachment said. "He thereby betrayed his trust as President, to the manifest injury of the people of the United States."
In preparation for the 2021 Presidential Inauguration on Jan. 20, 15,000 troops will be placed in Washington D.C. as an extra measure of security. On Jan. 11, President Trump approved Washington D.C. Mayor Muriel Bowser's wishes to declare the Nation's Capital in a state of pre-disaster. By approving these declarations, additional city funding was made available to inauguration security efforts.