Principal Michelle Kefford makes Top 4 Principals To Watch In 2021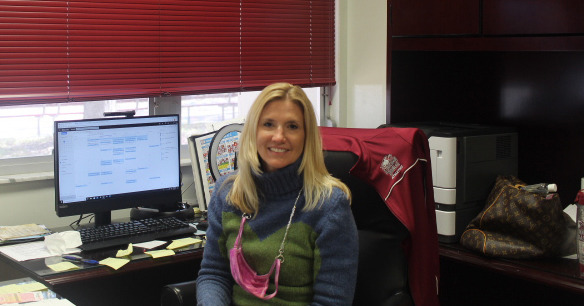 At Marjory Stoneman Douglas High School, Principal Michelle Kefford has accomplished many things during her short time at the school. Recently, Kefford made the Four Principals to Watch List, published by K-12 Dive on Jan. 13.
 "I was not aware that this list or story existed until a colleague sent me a copy of it," Kefford said. "I was surprised, but honored to be listed." 
The top four principals to watch list consists of the principals who help create the most productive learning. When students are learning, test scores increase.
Although Kefford has only been the acting principal of MSD for two years following the Feb. 14, 2018 shooting, this is not her first time working at the school. Prior to being principal, she worked as a biology teacher on campus. 
Throughout her duration as principal, Kefford has also managed the school's response to the COVID-19 pandemic, was named Florida's principal of the year in 2019 and even introduced two programs where she can personally address the concerns of students and teachers alike over a meal.
"In my short time at Douglas, I have quickly come to realize that Ms. Kefford isn't like most principals, so I was not at all surprised that she has received this recognition," English teacher Paula Hicks said. "She is able to balance the rigorous expectations of being a principal during a pandemic with the ability to show consideration and compassion for her staff." 
Every morning Kefford stands in front of the school's red gates where she greets students as they walk into the building. 
"I greet the students every day in front of the school because I want them to know how happy I am that they are here and they brighten my day. There is no better way to start my day than to see our kids!" Kefford said. 
"Connection to the students is a critical component to the social/emotional component of the learning process," says principal Kefford. "Understanding students' interests, thoughts, and concerns is paramount to ensuring that we are able to meet their needs."
Through actions such as this, she has connected and formed friendships with many students. "As soon as I walk out the car, I see principal Kefford greeting everyone as they walk in," freshman Rebecca Stember said. Everyone being happy can prevent disasters.
"Core to Kefford's leadership strategy is a commitment to building positive relationships with students."Roger Riddell and Nazz Modan, authors of " Four Principals To Watch 2021," said.
Before this outstanding honor, Kefford has received numerous other awards. 
"I won Principal of the Year for Broward County in 2018, Principal of the Year for the state of Florida in 2019 and then was a finalist for National Principal of the Year for 2021," Kefford said. 
The Four Principles To Watch is a list of principals that have made exemplary progression as a principal. These principals have made large steps in changing the school systems for the better. These principals include Wanda Tharpe Dacusville middle school in South Carolina, Quentin Lee Childersburg High School in Childersburg Alabama, and Whitney Weathers Manual High School in Denver Colorado. Throughout all of the events from this year these principals have made it possible to convey a well-structured school system, they took the circumstances that were thrown at them and made them positive situations. That is how they made the top four and that's how they are going to lead us in better.