New "Improv club" takes off
Lauren Newman
October 15, 2015
Improv Club, a new addition to the long list of activities at Marjory Stoneman Douglas High School, took the spotlight with an overwhelming turnout of over 20 new members at the first meeting on Oct. 13. The club plans to meet every other Tuesday in room 226 after school for various improve games, performances and guest speakers.
The founder and president of the club, Ryan Deitsch, was determined to create this organization because of his love for the old improv performances in Junior. Thespians. To get the Improv Club on its feet he had to prove its legitimacy to Assistant Principal Max Rosario and the Inter-Club Council (ICC). Once this was achieved, he got to work by getting the word out and starting to plan.
"Overall our first meeting went well, and we had a lot of good laughs. It could have gone smoother, but now we can show what we are really made of next meeting," Deitsch says. "With improv games and a little more organization, this club will be a winner."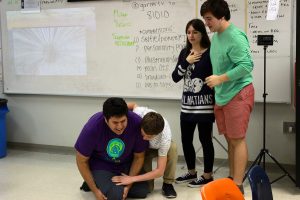 At the first meeting, the club elected their officers through entertaining, improvisational challenges and speeches. The group also participated in their first improv activity, in which they separated into teams and acted out scenes based on two random words provided for them.
"As the hour went on it started to get a lot more fun and entertaining. When we all broke up into groups and started improvising on random subject matters, it really showed that everyone in the room had a very humorous side, and I think that is something great that the club can explore in the next few months," senior Justin Frybergh says. "It was overall a fantastic experience and I can't wait to see how it grows."
According to the newly elected officers of the Improv Club, the club will focus on the art of improv and how to strengthen performances. They would also like to hopefully coordinate some performances with the MSD Drama Club to show off their talents to other students in the school.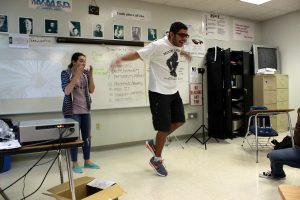 "I had a blast at Improv Club. It's a very fun and inviting environment where everyone can participate and enjoy some comedy after the long stress of school," junior Lorenzo Alvarez says.
The new MSD Improv Club is a great way for students who are interested in performing to have fun and meet new people with similar passions. Students should join if they are outgoing, enjoy comical entertainment and have the desire to make great friends and unforgettable memories.