American Horror Story: Hotel Presents Gaga's Television Debut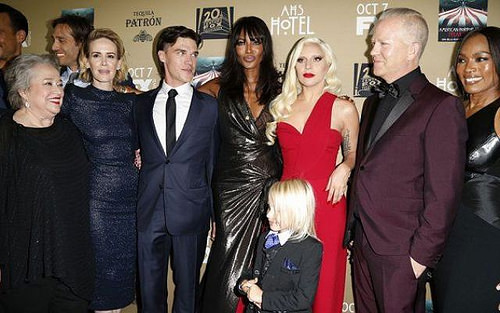 Makayla Manning
October 15, 2015
Fox's hit television show, American Horror Story has returned for its fifth season with a whole new theme, new setting, and some new cast members leaving viewers wanting more. American Horror Story: Hotel became the second best for a telecast on the network and is only behind the show's previous season American Horror Story: Freak show.
The haunting television series premieres every fall once a year and has a different theme every season with completely different characters and plots. This season is set in Los Angeles, California at the Hotel Cortes and focuses on the hotel's peculiar workers and guests.
According to the show's creator Ryan Murphy, this season is going to have an element of secrecy as most of the characters have something to hide and what better place than a mysterious hotel. This is evident through the use of peepholes on hotel doors in the show's promotional posters.
One of this season's biggest focuses is on the mental theme of addiction as a lot of the characters deal with addiction to different drugs and other substances. Addiction also plays a role in the looks and actions of the different demons that lurk around the hotel.
"I definitely believe that this season is going to be more intense, " junior Samantha Snyder said." "I think compared to the other seasons it's going to be more horror based and have a lot more blood."
American Horror Story: Hotel contains some of the original cast members such as Evan Peters, Sarah Paulson, and Denis O'Hare, however one crucial cast member, Jessica Lange retired from the show last year and is not returning.
Lange always played the main characters and a lot of the show's previous plots were focused on her. Many fans were crushed when they found out that she would no longer be returning. However, for her replacement in the show, pop singer, Lady Gaga, has taken her place and stars as the main character, The Countess, who owns the hotel.
"At first I was so sad that Jessica Lange wasn't going to be on the show anymore, but I think Lady Gaga has done a pretty good job as to living up to Lange's roles," junior Devyn Joseph said. "It is almost like American Horror Story was meant for Lady Gaga."
The show, is Gaga's first acting debut and already she has received a huge buzz about her performance through social media. Along with Gaga, there are several actors who are adding to the cast this year such as Wes Bentley, Max Greenfield, and Naomi Campbell.
As the show is known for its different types of fantasy characters such as ghosts, demons, witches, zombies, and more they have placed a new addition to the list, vampires. So far in this season it has been reveled is that The Countess is a vampire who holds some type of power with her penetrating stare. She has turned some of the Hotel's guests into vampires as well as a group of blonde-haired; fare children that she takes care of.
Viewers are in store for changes to bring a new story to the series and small clues to how this season will connect to the others. It has been confirmed by Murphy, that every season of American Horror Story has a connection to the other.
If American Horror Story: Hotel lives up to expectations and receives high ratings, then the network will consider having season six premieres in 2015 rather than 2016. Whether, this season will end fitting viewers expectations or not, it has already grown to become a cultural phenomenon that has impacted television history for Fox.