President Biden raises minimum wage to $15 an hour for federal contractors
On Tuesday, April 27, President Joe Biden issued an executive order to raise the minimum wage to $15 an hour for all federal contractors. Despite the lack of such a raise for all United States workers due to legislation disregarding the budgetary rules set by Senate parliamentarians, the raise to $15 an hour from the prior $10.95 for contractors is a significant improvement.
Federal contractors affected by this executive order include maintenance workers, food service workers, military nursing assistants and federal infrastructure build and repair laborers. Furthermore, an estimated 50 percent of the beneficiaries are Black or Hispanic workers.
This order aims for improved economic equity among lower and middle-class income makers, as well as assisting those living in poverty. However, Biden still wishes to implement a $15 minimum wage for all U.S. workers, not just federal contractors, despite Republican concerns about the implications of tax-payer money raises. This takes into account that the current federal minimum wage has been unchanged since 2009.
"No one — no one working 40 hours a week should be living below the poverty line," Biden said at his presidential address to Congress on April 28.
The Biden-Harris administration officials contradict such concerns by claiming that a rise in the federal minimum wage would not have any additional costs to the government or taxpayers due to the increased levels of productivity and decreased absenteeism, the lack of employees showing up to work, in U.S. jobs.
"People that work 40 hours a week should be able to help feed their families," junior Julia Danois said. "I think it's hard that Congress isn't cooperating and not letting the higher pay be accessible to everyone, but hopefully that will change soon."
Not only does this executive order promise to gradually raise the minimum wage to avoid implications with inflation, but it also continues to index this amount every year after 2022 to reflect the cost of living.
"The minimum wage has not changed with time; living expenses have increased, but the minimum wage hasn't," junior Alayna Diaz said. "I think it will be good for many families across the country."
The initiation of this pay raise is set to begin in January 2022. Moreover, it will become required for all federal agencies to implement this measure by March of 2022. Additionally, this new order requires tipped and disabled workers to receive the same minimum wage as their federal contractor counterparts by 2024.
Although the Biden-Harris administration still struggles to convince Republican members of Congress of the need for a federal minimum wage increase, this new order is a step in the right direction towards overcoming economic inequality and strengthening the middle class.
Leave a Comment
Your donation will support the student journalists of Marjory Stoneman Douglas High School. Your contribution will allow us to purchase equipment and cover our annual website hosting costs.
About the Contributor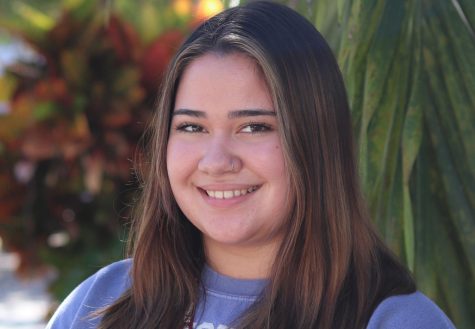 Sofia Osio, Section editor
Sofia Osio is a senior at Marjory Stoneman Douglas High School and a section editor for arts & leisure and opinion. She enjoys poetry, dogs, music...