Encouraging Education Careers at Douglas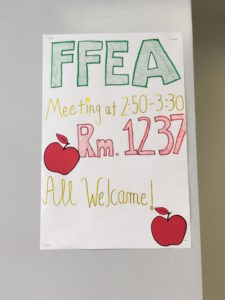 Tori Rosenthal
September 21, 2016
Florida Future Educators of America (FFEA), maintains goals to build positive relationships while serving the school and community, as well as to prepare and encourage students that are interested in a career in education.
"We do crafts, go to rallies, go to states in Orlando and have regional conventions," FFEA President Jenna Boatright said.
FFEA is one of the smaller clubs here at Marjory Stoneman Douglas, so its members are always looking for new students to join.
"We're a pretty small club, so everyone really gets to know each other- we all develop close relationships," Boatright said.
The club has been mandated by Broward County ever since MSD was founded in 1990. However, three years ago, Felicia Burgin, a ninth grade English teacher, became the club's adviser.
"Joining FFEA has been the best experience that I've had in high school," FFEA Vice President Isabella Scapecchi said.
The most common misconception of FFEA is that you have to want to be a teacher to be apart of the club. However, this is not true. About half of the club members want to be educators in the future and half do not.
The club meets on the second and fourth Monday of every month in Burgin's classroom, room 1237, and the first rally takes place in the gym on October 5.