[Multimedia] Top Ten Holiday Movies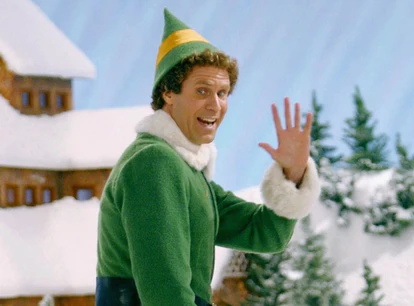 Elf
Starring hilarious actor Will Ferrell, "Elf" is a movie based on a human named Buddy, played by Ferrel, who believes he is one of Santa's elves. I had low expectations for this film, as I believed it would be just another boring and sappy Christmas movie, but my beliefs were fortunately proven wrong. This film has become a holiday tradition for my family to watch every year.
This movie is bound to make you laugh so hard that your stomach will begin to hurt and your cheeks will become sore. Watching Buddy try to fit into human normalities in cruel New York City, after thinking he was an elf his whole life, is truly hilarious. One of my favorite scenes is when Buddy visits his biological father, played by James Caan, but his receptionist, played by Amy Sedarist, thinks he is a Christmas gram. This embarrassing moment leaves the audience hysterically laughing.
All in all, I would strongly recommend this Holiday movie for anyone looking to get into the Christmas spirit. This comedic script also includes great moral value, teaching people that gratitude and compassion is more necessary than pride. Buddy the Elf is never afraid to stay true to himself, even if he is embarrassing himself in front of large crowds.
Home Alone
"Home Alone" is definitely one of the most nostalgic Christmas films that most kids find relatable. It is so amazing that there are five other Home Alone films in addition to the original version. This film depicts the chaos and thrill Kevin, played by Macaulay Culkin, feels after being accidentally left home alone during a family Christmas vacation.
However, the excitement is soon turned to horror once criminals attempt to break into Kevin's home while he is in complete and utter solitude. It is hilarious to watch Kevin be thrilled and try everything he's always wanted to do without his parent's permission, like staying up late to watch Johnny Carson, eating buckets full of ice cream and sleeping in his parents' bed.
This amazing film by John Hughes showcases a common human feeling of solitude. This movie shows a different perspective of the typical jolly season, as Kevin is fearful and desperately wants to see his parents. The burglary situation allows Kevin to realize how thankful he is for his parents.
It's a Wonderful Life
"It's a Wonderful Life" is an underrated story about an angel, played by actor Henry Travers, sent to Earth to help suicidal businessman George Bailey, played by James Stewart, discover his importance by showing him how life would be without his existence. This is a classic 1946 American Christmas film directed by Frank Capra.
The movie provides a sense of hope, as the angel demonstrates the impact Bailey has had on other people. It shows that you have an impact even if you do not recognize it, which is a powerful message that everyone needs to hear.
The winter setting in the movie makes this movie a top-tier holiday classic. With an inspirational message and enticing storyline, "It's a Wonderful Life" has to be at the top of your must-watch holiday movie list.
A Christmas Story
Another classic Holiday film is "A Christmas Story," which is based in Midwest America during the 1940's. This film follows nine-year-old Ralphie, played by Peter Billingsley, who desperately wants a Red Ryder BB gun for Christmas. Talented Bob Clark successfully directed, co-produced and co-wrote the movie.
The film is not only comedic, but also heart-warming. This movie's iconic line, "You'll only shoot your eye out," is the response Ralphie's mother, played by Melinda Dillon, gives to Ralphie when he asks for the BB gun. However, my absolute favorite and most hilarious scene is when Ralphie's bestfriend Flick, played by Scott Schwartz, feels compelled to lick an icey metal pole during recess due to a "triple-dog dare." This outrageous action demonstrates how foolish yet hysterical children can be.
Watching this film is a true adventure as it encompasses conquering bullies, following dreams and pursuing the Christmas spirit. "A Christmas Story" is a must-watch film this holiday season if you want a good laugh and nostalgic sensations.
The Princess Switch
"The Princess Switch" starring Vannessa Hudgens is a cheesy, yet touching film that parallels the film "The Parent Trap." When Stacy, a Chicago commoner, bumps into the prince's fiancée Margaret, who appears as a doppelganger to her, they decide to switch lives for two days. They end up falling in love with each others' significant other.
This film reminds me of the Disney series "Liv and Maddie." Similar to Liv and Maddie, Stacy and Margaret are so different from one another, yet have a united and understanding foundation, especially after experiencing life in the other's shoes. It is mind-boggling to know that Stacy and Margaret are technically the same, as Vanessa Hudgens successfully portrays both individuals.
This movie is unlike most other Christmas films as it is a nice change of pace. It's the perfect movie to put on while spending time with your family during the holiday season. This feel-good movie creates a perfect setting for the holidays.
Four Christmases
"Four Christmases" is a Christmas comedy that will have you laughing until New Years. The hilarious holiday movie follows the couple Brad and Kate, played by Vince Vaughn and Reese Witherspoon, as they attend each of their divorced parents' Christmas parties. After eluding their families for years, as Brad and Kate spend the majority of their holidays on a tropical island, they now had to handle four gatherings on the same day.
Each family the couple visits is unique, which gives the movie its comedical element. Brad and Kate are put through numerous awkward situations, as one of the most memorable scenes is when the couple was forced to perform a nativity skit at Kate's mother's church. It was hilarious to watch as Brad, who played Joseph in front of the congregation, took over for the nervous Kate, who played Mary, in the most flamboyant way. The scene ended with the entire congregation applauding Brad's upside-down performance.
"Four Christmases," directed by Seth Gordan, showcases the difficult obligations many people must attend to when visiting family for the holidays. Although it may not always be fun, you will learn important lessons about the value of family, just as Kate and Brad did.
The Santa Clause
Starring Tim Allen as Scott Lloyd, "The Santa Clause" is another Christmas comedy that is great for the entire family to enjoy. The story follows Scott, who has custody of his son Charlie, played by Eric Lloyd, on Christmas Eve. However, things go south when Scott kills Santa Clause after catching him in the act of delivering presents. From there, Scott is taken to the North Pole and told he must become the next Santa Clause.
The film has primary themes such as the importance of believing in Santa Clause and the magic of the Christmas season. It also includes comedical elements for all audiences to enjoy, especially when Scott physically transforms into Santa Clause, consisting of Scott gaining weight and growing a long white beard. For viewers interested in watching more of "The Santa Clause," two sequels are out, continuing Scott's Santa story.
The Polar Express
"The Polar Express" is a holiday animation that follows a young boy, who was never named in the movie, as he embarks on a magic train ride to the North Pole during Christmas Eve. On his journey, he discovers an important lesson about the spirit of Christmas, one in which he did not believe before that night.
The movie is full of action and adventure, as the Polar Express ride was not always smooth. I felt a rush of anticipation in one scene of the film when the train drifted on a slate of ice and almost flipped over with the young boy and his friends stranded out front. There are many similar action-packed scenes in the movie that will have you on the edge of your seat, promoted by the train's conductor, voiced by Tom Hanks.
"The Polar Express," directed by Robert Zemeckis, is a holiday wonder that will prompt anyone who watches the film to fall into the Christmas spirit. The animation, although released in 2004, allows the more unrealistic, magical scenes to come to life. It is a great movie to turn on for those non-believing scrooges in your family as the movie teaches the importance of believing in the wonders and magic of the Christmas season.
Frosty the Snowman
When winter comes around, it's hard to miss the holiday special "Frosty the Snowman." Although the 25-minute special does not qualify as a movie, the story of a snowman coming to life and spreading positivity is a classic cherished by those who partake in winter festivities. Since it's release on Dec. 7, 1969, the short film's viewing has become a tradition for several families to spark holiday spirit.
Interestingly enough, "Frosty the Snowman" was based off of the hit 1950's wintertime song "Frosty the Snowman" by Steve Nelson and Jack Rollins. Producers Arthur Rankin Jr. and Jules Bass transformed the song into a visual story. Many of Frosty's physical attributes and characteristics are directly transferred into the animation of the film, such as his "corn cob pipe," "button nose" and "two eyes made out of coal."
The storyline of Frosty coming to life with a magician's hat and gaining a "jolly soul," along with the threat of the sun's heat, is relayed in the plot of the animation as well. The film gives the storyline in the song an extra dimension by adding other characters with distinct personalities, such as the insecure failing magician Professor Hinkle, who wants to steal his magic hat back, and kind-hearted Karen, who aids Frosty in his escape to the North Pole from the magician and the heat.
Having seen the film over the course of multiple consecutive winter seasons throughout my lifetime, I believe "Frosty the Snowman" is perfect for everyone in the family and those who celebrate the general holidays. The film does have Christmas attributes, but it's focus on the magical snowman allows the film to be enjoyed by those who simply want to enjoy the magic the holiday season brings. The special is also short and simple, which corresponds with many young children's short attention spans.
Dr. Seuss' How the Grinch Stole Christmas
"Dr. Seuss' How the Grinch Stole Christmas" is a hilarious and sentimental Christmas story the entire family could get into. The film, directed by Ron Howard, was released nationwide on Nov. 17, 2000, and it is a live-action version of "How the Grinch Stole Christmas!" written by Dr. Suess.
The Christmas movie follows the Grinch, played by Jim Carrey, who wants to destroy Chritsmas for the spirited Whoville citizens. From his isolated home in the mountain top near Whoville, the Grinch plots to steal the townspeople's Christmas decorations and Santa's presents on Christmas Eve. When the night finally comes, the Grinch runs into the young Cindy Lou Who, played by Taylor Momsen, who foils his anti-Christmas plans.
The film is great for riling up the holiday spirit in the entire family. Jim Carrey's great performance and comedical gestures, along with messages about how a community is brought together during the holidays, appeals to both older and younger audiences.