Percussionist Juliana Delgado enjoys band for the friendships formed and the experiences offered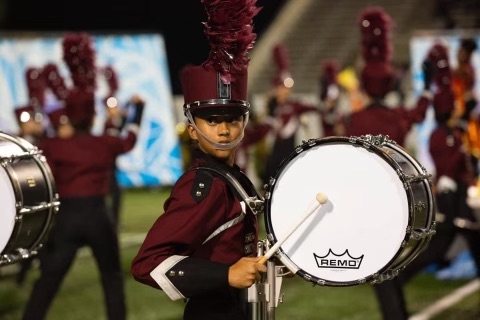 Ivy Lam, Senior Feature Editor
March 14, 2022
With any musician, his or her love for the performing arts is built upon years of experience and artistic performances. Whether it be as a group or as a soloist, individuals who truly love something will pursue their ambitions to the best of their abilities. Strutting onto the football field or humming behind the stage at a school concert, one particular student has expressed her musicality in a variety of ways.
Juliana Delgado, a junior at Marjory Stoneman Douglas High School, began her journey with music in the sixth grade. At first, the band elective was meant to keep herself busy and involved in a non-academic activity. However, the single period of class propelled her towards a new world.
When Delgado came to MSD, she joined the Eagle Regiment marching band and played first bass her freshman year, and snare drum her sophomore and junior year. MSD's band program has provided Delgado with unique opportunities to be involved in something greater than herself. Through various competitions, performances and events, Delgado gets to be a part of a prestigious family.
"During my freshman year, we were able to go to Disney World after our competition in Orlando; this year, we went to Islands of Adventure in Universal Studios," Delgado said. "I always love traveling with the band not only because of the competition itself, but also because of the people I'm surrounded by. This prestigious program gave me the opportunity to be involved in something great that could impact the future of the school."
Delgado is heavily invested in band, taking the extracurricular course in school and dedicating her evenings in long rehearsals. Besides learning from instructors and further improving her craft, Delgado has also learned how to manage her time efficiently, stay on track with her classes and remain motivated in her daily endeavors.
"My favorite thing about being a musician would have to be the feeling I get just right after I perform a show, whether it be during marching season or indoor season," Delgado said. "I would just feel really proud to be a part of this amazing program regardless of how we think we placed at competitions."
Because of her musician status, Delgado has met a plethora of percussionists from different schools and states. In the eighth grade, she was admitted into the Broward All County Middle School Band, where she met many other percussionists.
"I would say that one of Juliana's best attributes as a percussionist and as a person would have to be how caring she is. Whether it be in a marching, indoor, or concert band setting, she is very attentive and insightful in her parts, making her a skilled and devoted player," fellow percussionist Grace Cavaretta. "She's always been there for me and others as a friend, she's a good person."
Once the marching season ends, she begins the Indoor Percussion Program, an exclusive group of percussionists who dedicate time and effort to produce an entertaining show. The indoor percussionists get to compete against other groups on the local, state and international level. Her involvement in the program further deepened her bonds with the people in her section.
"For me, being in band has helped me find amazing friends. Because this program requires so much dedication and commitment, I spend many hours a week with the same people. The bonds I made, especially within my section, are bonds that I could never forget, even with people that already graduated or aren't a part of the program anymore," Delgado said.
Outside of band, Delgado is a member of the Mu Alpha Theta Math Honor Society, Science National Honor Society, Tri-M Music Honor Society and National Honor Society. She also enjoys painting, sculpting, baking and crocheting in her free time.
Delgado plans to continue to be a member of the band program her senior year; however, she is unsure whether or not she will continue music in college. She has not done much research on music as a major as she is leaning towards majoring in nursing.
"For the Indoor Percussion Program, we are going to Daytona, Florida to compete in the FFCC Championships after spring break and in April, we are going to Dayton, Ohio to compete in the WGI Percussion World Championships," Delgado said. "It's very exciting considering that the past two indoor seasons have been cut short due to COVID-19."
In addition to her future trips outside of the city, Delgado and the rest of the marching band plan to go to the Bands of America Grand National Championships at the Lucas Oil Stadium in Indianapolis, Indiana for the upcoming marching season. For now, she continues to attend practices afterschool for the Indoor Percussion Program and rehearsals for concert band.