[Review] Season 2 of 'Bridgerton' creates a more passionate slow burn storyline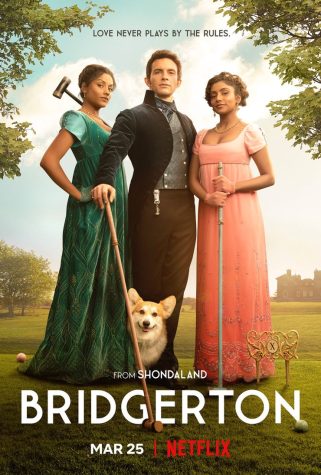 After two years of painstakingly waiting for more Bridgerton content, season 2 of Bridgerton was released on March 25 on the popular streaming platform Netflix. The season follows the oldest Bridgerton Anthony's love story, following the book outline, and introduces new characters that are a wonderful addition to the storyline. The enemies-to-lovers plot trope is demonstrated perfectly and this season went above and beyond fans' expectations.
In season 1 fans were introduced to the eight Bridgertion siblings: Anthony, played by Jonathan Bailey, Benedict, played by Luke Thompson, Colin, played by Luke Newton, Daphne, played by Phoebe Dynevor, Eloise, played by Claudia Jessie, Franchesca, played by Ruby Stokes, Gregory, played by Will Tilston, and Hyacinth, played by Florence Hunt.
The first season is centered around Daphne Bridgerton and her story with The Duke of Hastings Simon Bassett, played by Rege-Jean Page. This season, Daphne makes cameos with her son, but opting to stay out of season 2, Page does not appear.
The new season introduces Mary Sharma, played by Shelley Conn, and her two daughters Kate, played by Simone Ashley, and Edwina, played by Charithra Chandran. The family travels to London with the goal of Edwina taking part in this year's courting season in finding a suitable husband. Though Kate is older than Edwina and not married, she decides to focus on finding the perfect match for her sister instead of following traditional society rules. However, secrets are unveiled that complicate the storyline.
Anthony Briderton, the eldest son and Viscount, is finally looking for a Viscountess and because of his societal status he is the most eligible bachelor of the season. He curates a list of qualities he has for the woman to be sure she's the perfect one. He begins "speed dating" and interrogating the women and is extremely frustrated when he cannot find his "perfect" match. However, after the Queen names Edwina the diamond of the season, the title given to who the Queen claims is the best lady out of the group, he soon sets his sights on marrying her despite Kate's objections.
Anthony Bridgerton goes through changes this season and the audience gets to see more of Anthony's backstory. The audience learns that Anthony was with his dad when he passed away and that traumatic event caused him to have the wall he keeps up around everyone. Kate, however, is the only person he allows to see past his wall, which makes their romance all the more special. We believe fans of season 1 will like this new Anthony, although he does not stray too far from his controlling tendencies.
After a passionate encounter with Viscount Anthony Bridgerton, Kate discovers she has some unresolved feelings for him. Kate is torn between supporting her sister and facing her romantic feelings toward the Duke. Jonathan Bailey does a wonderful job at portraying Anthony's conflicted feelings and Simone Ashley created emotional scenes that left the audience entranced.
The chemistry between the two characters are obvious when they are first introduced. This is a perfect portrayal of the enemies-to-lovers trope. Although there are fewer spicy scenes than in season 1, the passion and emotion the actors show are more than enough to satisfy the audience.
We personally loved the way the romance was displayed in the show and found it to be perfect for readers who enjoy the enemies to lovers trope. Instead of straight sex scenes between the two love interests, there were heated stares across the room and passionate fits of dialouge. This created a buildup that kept the readers wanting more, which in our opinion is better than sex scenes.
In season 1, we were introduced to Eloise and her goal to unveil Lady Whisteldown's (an anonymous author that spreads gossip relating to the courting season in the town) identity. She is still determined to do just that despite not uncovering anything last season. In the last season, Lady Whisteldown's identity was revealed to the audience.
Penelope Featherington still continues to write about the drama and gossip of the spring season, but she is thrown into a difficult position when Eloise starts getting too close to revealing her identity. Eloise ventures into the poorer part of town to find where Lady Whisteldown prints her columns. This is where she meets the shop assistant Theo Sharpe.
Theo invites Eloise to a "town hall" meeting where women's rights are discussed and advocated for. Theo did not expect Eloise to show up but she does and they begin to get closer. Eloise and Theo begin to look for clues to Lady Whisteldown, spending more and more time together which leads to this being revealed in one of Lady Whisteldown's papers, causing another scandal in the Bridgerton family making it harder for Anthony to secure his match.
In the previous season we are introduced to Benedict, the second eldest, whom we know enjoys art and painting. He gets invited to an exclusive club for artists with drinking, partying and many sexual activities happening. This is where Benedict explores his sexuality and begins a sexual relationship with Henry Grainville another artist who attends the parties.
Showrunners have explained that Benedict's sexuality will be fluid throughout the seasons. In season one he is pursuing both Henry and the town dressmaker while in season two it is clear that he is interested in a nude model at the Royal Academy of Arts in which he attends in the second season. This makes fans curious about how his storyline will be played out as he is not queer in the books.
As of now, viewers do not know much about season 3 but Shonda Rhimes, the producer and screenwriter of Bridgerton, has said that the changes for both Eloise and Benedict will not be the only plotlines that stray from the book series by author Julia Quinn. The third book revolves around Benedict Bridgerton's story but the same may not be said about the third season where they plan to change the order.
The third season may be about Benedict, Colin, or even Eloise; no information has been released yet. Fans speculate that Eloise's season may be the third because the beginning of her story was the subplot for season 2 while Anthony's story was the subplot for the first season. Although there is not a release date for season 3 yet, fans want it to be soon.
Overall, the second season of Bridgerton is the best season of the show, in our opinion, and should be watched by those who enjoy Pride and Prejudice, since this season has many parallels between the bickering romances. If one is new to Bridgerton and hasn't watched the first season, it is not necessarily required to watch the second season. All episodes are streaming on Netflix across the world now.