Review: Jeremiah's Italian Ice offers multitude of sweet treats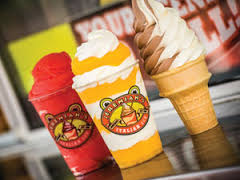 Jordyn Laudanno
September 29, 2016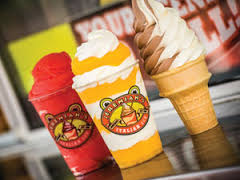 A new addition to the surplus of good eateries and ice cream shops in Coral Springs is Jeremiah's Italian Ice, quickly becoming a new spot for locals to hangout and enjoy their delicious ices and ice cream. Its popularity is evident as upon arrival to the shop, as there is typically a line long enough to cover the entire plaza.
Jeremiah's is not your normal ice cream place since they serve gelati, Italian ice and soft ice cream. Their most popular item is the gelati, and for those who have not tried their plethora of flavors, they can be described as the perfect layering of Italian ice and soft ice cream.
"Watching people's reactions after they taste our gelatis always bring a smile to my face, and I feel very fortunate to work at a place everyone enjoys going to," employee Rachel Argent said.
For those who favor Italian ice by itself, they can choose from up to 40 flavors, which might seem like a lot to choose from. However, they give out unlimited free samples, which is one of the reasons so many people go there.
"Sometimes when I'm not really hungry and don't have much money, I go [to Jeremiahs] and just order a gelati sample,"jJunior Morgan Atwell said.
The employees are more than happy to attend to anyone's needs. If someone is confused concerning what they want to order or if they just want something as simple as water they are very attentive and helpful.
"I absolutely love working at Jeremiahs. Having such amazing coworkers makes the job easy and overall a fun environment," Argent said.
The store is located on 9172 Wiles Road in the same plaza as Lucky's Market and Pepperoni Grill. Once you walk up to Jeremiah's Italian Ice, you will realize that you can only order outside at a window, although there is outside and inside seating available. However, there are mixed feelings about ordering method being an outside at a booth, but personally I think it gives a nice feeling of nostalgia for older restaurants and ice cream parlors.
"I think [the ordering window being outside] is so cute; it is a good idea and convenient because it doesn't clutter inside, and it is quiet when you are inside eating," sophomore Brooke Kenny said.
When I tried it out for myself, I enjoyed the texture of the creamy, soft ice cream and icy Italian ice and how they compliment each other so well, as well as the flavors. I relished in the distinct saccharine strawberry flavor and enjoyed the friendly environment.
I have no doubt in my mind that I will be coming back, and will definitely be recommending this newfound gem to everyone. So, if you have not been, go enjoy a chilly treat and bring your friends.