Seniors convey their concerns regarding the college admissions process
Ivy Lam, Senior Feature Editor
October 7, 2022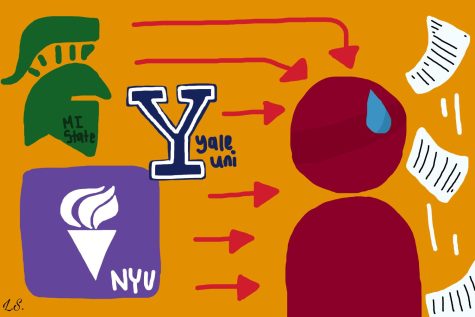 Eyes flicker left and right across the personal statement portion of the Common App application, retracing the unique story written within the rectangular space. Hands fly over the keyboard of a computer, answering the supplements of each college selected on their portal.
Across the nation, the graduating Class of 2023 has embarked on their college admissions processes to meet state early and regular decision deadlines. For individuals with older siblings, the stressful process may be familiar; however, for the majority of students, the complexities of the Common App or Coalition App, along with those of the FAFSA and CSS profiles, are time-consuming and meticulous.
College applications summarize the efforts and achievements of four years of high school; thus, it is extremely important they are done in a way that best reflects an individual's best qualities.
"I'm most stressed about figuring out which accomplishments the college values as opposed to what I value, something I might overlook may be a really big deal in the college's eyes and vice versa. I want to find the best possible way to present myself in front of the college that makes me look good," senior Alphonse Stephen said.
Additionally, many students perceive drafting personal statement essays and college-specific supplements as one of the most challenging obstacles. Applicants reflect on their own lives to narrow down a topic. Although there are an endless amount of topics that can be written about, applicants often find themselves making several rounds of revisions to compose their ideal story. Common topics include talking about a life-changing event or an important person.
"It is hard to think of essay topics that I actually feel passionate about and properly formulate my passion into words," senior Alyssa Freckleton said. "I try to get all my ideas out there and do as many revisions as possible. Starting is the hardest part. So after you start, it gets easier."
There are several online resources for those struggling to express themselves and their interests; students can read a plethora of professionally reviewed and successful essays or watch YouTube writing workshops to generate ideas for themselves and tips and tricks to make their writing stand out.
Students pursuing undergraduate studies have three options when selecting the best course of action for education studies in the 2023-2024 year: Early Action, Early Decision and Regular Decision. While the latter offers more time to complete the general application, students who decide on the early action and early decision route receive their admissions decisions sooner, typically starting mid-December.
Students can only apply Early Decision to one school; if they get in, they must attend that school and withdraw all other applications. Therefore, Early Decision is not a popular option among the three available due to its time sensitivity and restrictive guidelines.
Once seniors decide on how and where they want to apply to colleges, they must request and upload academic documentation from their high schools; this includes unofficial and official transcripts, teacher recommendation letters and school profiles.
"[Transcripts] is the biggest concern seniors have. 'How do I get my transcript?' One of the things that I've noticed a lot of is they're asking for transcripts for schools that don't require them," Guidance Counselor Jerry Turmaine said. "Naviance is the vehicle to get information from the school to the colleges that you're applying to. If you need a transcript, a letter of recommendation, all that comes through Naviance."
The guidance department offers a plethora of resources to assist students and parents throughout the college application process. Broward Advisors for Continuing Education, or BRACE, advisor Randy Congdon serves as Marjory Stoneman Douglas High School's designated center for all questions and concerns regarding financial aid and post-high school options, such as scholarships and trade school programs.
"I've seen Mr. Congdon a lot. He showed me a lot of cool college programs," Stephen said. "I try to expose myself to anything related to that college, like talking to prior graduates and people who are involved in that process. They all have different advice, so I figured out which one applies to me the best to develop my own style in applying."
Although the college admissions process may seem overwhelming and taxing for several seniors, there are several ways to create a balance between school and applications; this includes setting time aside every day or every week exclusively for college applications, gathering advice from a college advisor and staying on top of deadlines.
"Getting the things that the schools are asking for on time and completing the application by the deadline are important," Turmaine said. "A lot of students wait and procrastinate until the last possible minute to do things. And if they do it on the day that it's due, then they're late. So early is on time, on time is late."
Considering the available resources offered on campus and on the world wide web, the chaos of the college admissions process can be mediated. As seniors approach the end of their high school journeys, the next step in their young lives is only beginning.