Creepy clowns cause credible concern
Lauren Newman
October 4, 2016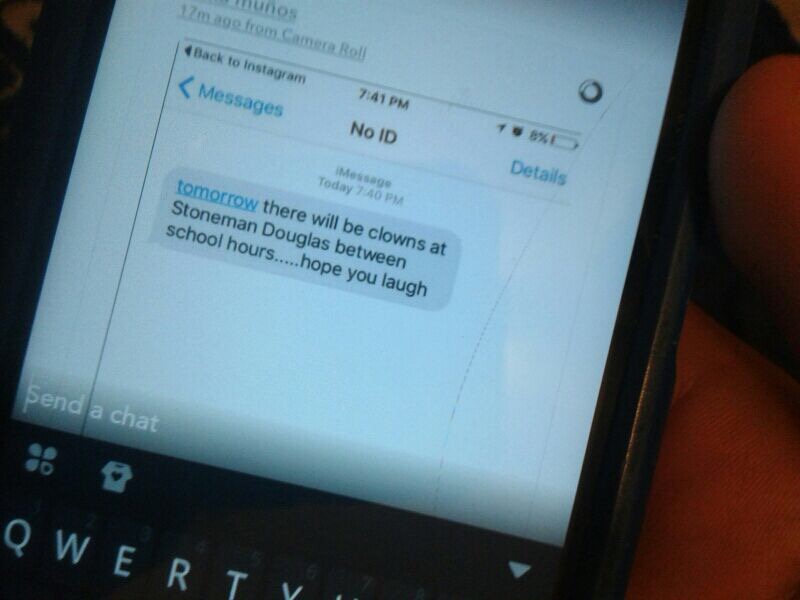 Recently, on social media platforms such as Twitter, there has been spreading awareness of "creepy clown" sightings in South Florida. These clowns, who have made online threats to local high schools (many in Palm Beach County), have now extended their threats to include Marjory Stoneman Douglas; while there is little evidence to prove that this is a substantiated concern, these sinister yet unusual reports have been keeping MSD students on their toes.
In addition to online threats, many students received disturbing text messages claiming that these clowns planned to come to MSD on Tue. Oct. 4. The texts were sent out Mon. evening from a phone number with no ID. The message reads as following:  "tomorrow there will be clowns at Stoneman Douglas between school hours…..hope you laugh."
With many students horrified at these disconcerting messages, Principal Ty Thompson expressed his opinion on the subject over Twitter.
"At this juncture, there is no evidence that these threats are credible," Thompson said on Twitter. "We are working closely with federal, state, and local law enforcement agencies regarding the source of these posts."
On Tue. Oct 4, the school increased the security on campus as a precautionary measure, but continued with a normal school schedule. The school day was completed without any sightings of creepy clowns on campus.
However, these creepy clown related incidents have become increasingly common.
According to the Sun Sentinel, school districts all over the country have experienced similar threats. In other cases, now particularly in Florida, people have actually spotted these creepy clowns in public trying to frighten people. This trend started on Aug. 1 in Wisconsin when a picture portraying a creepy clown holding four black balloons spread all over social media.
These threats have been acknowledged across the country, none of them have been followed through to date; the creepy clown threats appear to remain as just a hoax, rather than a credible concern.