Review: Maddie and Tae's "Start Here"
Joanna Zhuang
October 9, 2015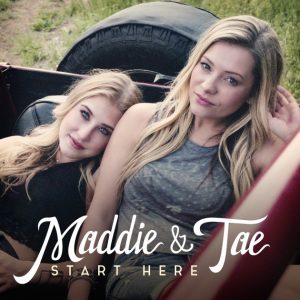 The tragic 2014 departure of Taylor Swift from the world of banjo plucking and guitar strumming produced a gaping hole in the country music industry that left millions of teenagers scurrying to find another artist with the unique ability to capture the diary struggles of growing up. With the release of their debut album, titled Start Here, Madison Marlow and Taylor Dye have proven to be the heroes for whom we have all been waiting.
Released on August 28, 2015 through Big Machine Records – the label that introduced sensations like Taylor Swift and Florida Georgia Line, Maddie and Tae's Start Here features 11 tracks that mix relatable lyrics reminiscent of Swift's earlier work with neo-country melodies and unique harmonization.
Start Here starts off with the generally enjoyable but unimpressionable "Waitin' on a Plane" before dissolving into the determined guitar riffs of "Girl in a Country Song." Critically and commercially acclaimed, the platinum-certified debut single unapologetically tackles the increasingly popular genre of "bro-country," chastising such artists for objectifying and marginalizing women.
Maddie and Tae have cited the Dixie Chicks as an influence, which is clear in their harmonization techniques as well as instrumentation throughout the album. Miranda Lambert arises as an influence in "Your Side of the Town," a refreshingly upbeat song focused on heartbreak.
Still, Maddie and Tae shine the brightest on tracks saturated with sass, as in "Shut Up and Fish." Dripping of vocal sweetness but bearing a message that is anything but sugary, the girls deride the flirtatious efforts of a sweet-talking "city boy."
Start Here represents a welcome breath of fresh air in the modern world of country music, especially in the perfect balance Maddie and Tae find between lighthearted tunes, social criticism, and heartbreak anthems.