[Review] Don Toliver's new hit album 'LoveSick' excites fans with amazing new features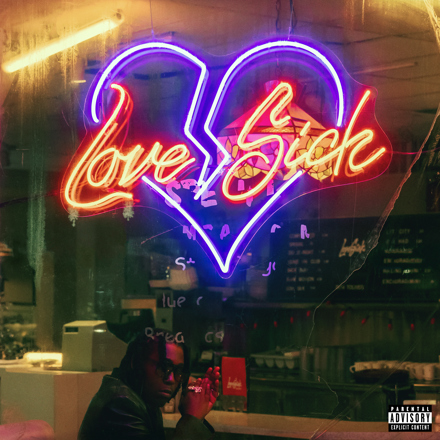 Famous artist and rapper Don Toliver, released his rap album "LoveSick" on Feb. 24 to a variety of streaming platforms such as Spotify and Apple Music. Don Toliver is signed to the record label Cactus Jack, and this is his first full-length release since 2021 with his album "Life of a Don."
"LoveSick" is his third studio album and includes several previously released singles including "4 Me", which features artist Kali Uchis, as well as "Drugs N Hella Melodies."
"Don Toliver released a lot of singles leading up to his new album to get everyone excited about the long awaited album," senior Anabelle Niddam said.
The album is composed of 16 different songs, equaling around 50 minutes in total. Don Toliver also announced in November of 2022 that he will be collaborating with Amazon on a short film titled "LoveSick" to promote the new album. The trailer, which was released on Youtube on Feb. 17, has already racked up almost 100,000 views.
"I waited up until midnight to listen to this album and it did not disappoint. Each song was amazing with great features," senior Skylar Bons said.
The album definitely tops his previous album, "Life of a Don," due to the amount of features. Artists including James Blake, Future, Justin Bieber, WizKid, Charlie Wilson, Brent Faiyaz, Toro Y Moi and Tisakorean appear on the tracklist.
Don Toliver's collaboration with Kali Uchis is a notable one. She also stars on "Life Of A Don" so collaborating again makes the album even better with more features than the last. Their song is about love, betrayal and moving on which portrays the album title "LoveSick." The cover art displays Don Toliver sitting under a neon sign at a store that says "LoveSick."
"When I heard Justin Bieber rapping on the album I knew it was going to be a hit song," senior Josh Gordon said.
The number one song on the album would have to be "Do It Right" as it is easily the catchiest and most well-liked song on the album because it really captures both modern and old-school rap.
A close second is "Private Landing" featuring singer Justin Bieber and rapper Future. This song includes two of the most popular artists in the country according to number of streams. Bieber, Future and Don Toliver each use styles of sing-rapping during the song and Justin Bieber definitely takes over on this song.
"Don toliver is usually the feature on other artist's albums. However, he made his own album with some of the best features this year," sophomore Nina Levy said.
On the other hand, songs like "Time Heals All" or "Honeymoon" show Toliver's singing talents in full force with no features. His solo moments are what makes the album great. It is a smooth, enjoyable and easy listen, with each song flowing nicely with the next. The album really checks all of the boxes of rap, melody and hardcore rap.
"It was a long time to wait for him to drop another album, but it certainly did not disappoint and was worth waiting for. He really shows that he can be an A-list rapper," senior Olivia Binder said.
The album is definitely a must listen, with each song being equally captivating and exciting. The unique beats and well written lyrics make the album something listeners cannot pass up. Fans of Don Toliver or great rap music are really going to be excited about "LoveSick." The fans seem to love the album and think it could be his best yet due to the variety of features including Justin Bieber, James Blake, and Brent Faiyez.