Review: New Girl worth the watch
Madyson Kravitz
December 15, 2016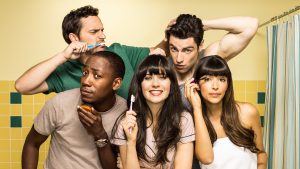 The Fox sitcom "New Girl" is constantly receiving recognition for it's funny storyline and developed characterization. "New Girl" first premiered on Sept. 20, 2011, and was developed by Elizabeth Meriwether. Since then, the show has put on a six successful seasons and produced a whopping 125 episodes.
"New Girl" has received great responses from critics, who named the show one of the "best new comedies of the 2011 fall season." The pilot episode drew 10.28 million U.S. viewers and a 4.8 adults 18–49 demo rating, making it the highest-rated fall debut for a Fox scripted show since 2001. The show has also been nominated for several awards such as five Golden Globe Awards and five Primetime Emmy Awards.
The show mainly revolves around Jess (Zooey Deschanel), a quirky young teacher who is known for embracing her weirdness and trying to navigate the trials and tribulations of adulthood. She moves into an apartment with three men she does not know, , who eventually become a family to her.
New Girl's plot is the growth of the connection between this group of friends and takes you through how they change and develop. Living in Los Angeles, Jess, Nick, Schmidt, Cece, Winston and Coach work through their everyday issues and helping each other along the way. Even Rotten Tomatoes gave the show a 93 percent on it's average tomatometer.
Besides humor, "New Girl" has an intriguing and not typical love triangle. Characters such as Cece and Schmidt, Jess's best friend and roommate, get together and eventually even get married. Also, Jess and Nick, who constantly combat each other, also date for a pretty decent amount of time. But although some of the "in house" relationships didn't work, these characters still have an extreme love for each other
"New Girl" has been and has continued to been given many awards and very high ratings. It definitely a show to watch if interested in sitcoms with a hint of romance.