Review: Baby Daddy entertaining, but has weak plot
Madyson Kravitz
December 15, 2016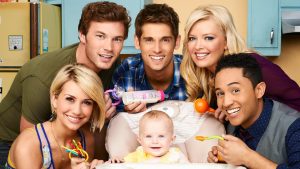 "Baby Daddy" is an American sitcom created by Dan Berendsen that first appeared on television on June 20, 2012. The show is constantly recognized for it's great acting and hilarious script. It has won five Teen Choice Awards and two People's Choice Awards.
The show takes place in Manhattan and mainly revolves around the easy-going and fun character, Ben (Jean-Luc Bilodeau). One day, his baby daughter Emma is left at his doorstep with nothing but a note and this completely changes his life. Ben lives with his brother Danny (Derek Theler) and close friend Tucker (Tahj Mowry), who continue to stand by Ben's side, even when they all know that their lives will have to change.
The show focuses the close connection of the main characters which also include Ben's mom, Bonnie Wheeler (Melissa Peterman), and his other close friend Riley Perrin (Chelsea Kane). These two women represent the backbones in all the relationships and are always the ones to get things done to help the men.
Throughout the seasons, you watch certain characters grow literally and figuratively. Emma begins to grow into a child who is witty and smart and other characters become better people mainly due to Emma. There is also an interesting love triangle between Riley, Ben and Danny (the brothers). Every episode is extremely funny and has a touch of drama.
Although the show is very entertaining, some say it has a weak plot. Rotten Tomatoes gives it a 36 percent on the tomatometer due to it being well executed, but sometimes all over the place. Although this percentage is pretty low, the average audience score was a 90 percent, which shows that most viewers do enjoy the show and continue to watch it through the seasons.
Overall, this show has had very good reviews so far and has had five successful seasons that are planned continue. It is recommended for people fourteen years and older but appeals to all audiences.