Local students help foster teens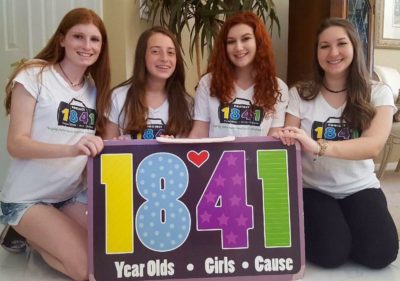 Andrea Hengber
December 15, 2016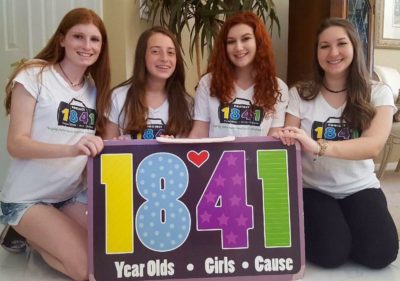 For many teenagers, turning 18 is seen as a time of celebration, a mark of the first day of adulthood. However, it's not all celebration when one turns 18— teenagers in foster care age out of the system at age 18, bringing fears of finding a place to live and acquiring basic needs for independence to this birthday.
That is where Project 1841 comes into place. Project 1841 stands for "18" year old foster teens, "4" local girls with "1" cause of helping the foster teens.
The first generation of Project 1841 began in 2007 by four teenage girls from Broward County—Alexandra Kaplan, Alex Rubin, Alli Weiss and Ilana Wolpert. After reading an article about an 18 year old relocating out of the foster care system, the teens were devastated—especially upon learning that all she had was a garbage bag to pack up her belongings. The girls immediately began working on a solution to this problem.
First, the girls of Project 1841 began fundraising for their cause. They purchased many duffel bags and filled them with toiletries, a pillow, a pillowcase, snacks, a Subway gift card and a birthday card wishing the foster teens a bright and successful future.
Since it's conception, all four founding members of Project 1841 have graduated and passed the torch to a new set of girls. Currently, Project 1841 is in it's third generation of leaders.
"I am friends with two out of four of the girls involved in 'Generation three' of Project 1841," sophomore Alyssa Fletcher said. "I think they are doing an amazing job with helping out the community. I will always support this outstanding cause."
Currently, Project 1841 works in conjunction with ChildNet, a foster care agency located in Fort Lauderdale, Florida. Each month the girls receive a list of those aging out of the foster care system, averaging around 8-12 each month. Since 2007, Project 1841 has packed over 800 duffel bags.
"I love helping the teens who age out of the foster care system and aren't given any basic home needs," Project 1841 member Lexi Ofstein said. "It makes me feel so happy when we provide them bags with basic necessities to help them transition easily."
Each year, more and more foster teens age out of foster care and have to go live on their own. Project 1841 aims to help these teens through the transition process.