Review: Married at First Sight worth the watch
Andrea Hengber
January 12, 2017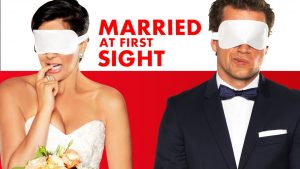 Could you imagine marrying someone you have never met? Meeting your husband or wife at the altar is definitely a way to take a chance with love.
Three couples on this season of the show "Married at First Sight" did just that. It is an experiment that surprisingly had many candidates willing to marry a complete stranger. The experts interviewed thousands of applicants until they narrowed it down to three females and three males.
The finale of Season 4 of "Married at First Sight" recently aired and it's good news. Two couples are still married six months after the show finished filming, but it hasn't always been a success. Season 1 had two successful marriages, but then the next two seasons had disastrous results with all three of its arranged marriages resulting in divorce.
The secret to the matches on the most recent season might have something to do with some changes that were made this past season. Two new experts joined the team, and they added new questions on the personality evaluation trying to get to know the applicants on a more personal basis.
The show airs on FYI, a division of A&E Networks Corp. The first three seasons can be streamed on their website.
A fifth season is already in production in Chicago. However, one new change will be that the producers have decided to extend the length of the marriage experiment from six weeks to eight weeks.
Why watch this show? I originally started watching "Married at First Sight" just because it sounded ridiculous, and I was interested to see what kind of people would marry a stranger. Watching the couples get ready for their wedding to someone they have never met before was interesting to me, but watching them spend the next six weeks together really caught my attention. I couldn't believe that total strangers got married, went on a honeymoon, lived together for six weeks and then ultimately decided if they will stay together or get a divorce.
This show is not very realistic, but it is definitely entertaining. Will next season have any successful matches? Good luck to the new applicants. I will be watching.