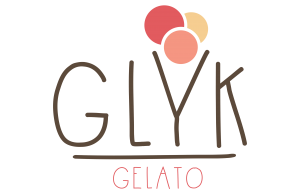 When one is having a late night ice cream craving or is simply just in the mood for a sweet treat, Glyk is the place to go. Open only a few months, Glyk is a quaint Artisanal style gelato shop that immediately puts customers in a feel-good mood.
The seating consists of cozy light blue couches and love seats mixed in with white swivel chairs encompassing the space. The ambiance of the shop makes customers feel as if their sitting on the sidewalk of a French patisserie.
Glyk offers a diversity of unique flavors such as a favorite, sweet corn if you are lucky to be there on the day they make this flavor. Other options on the menu include their creamy milkshakes, fresh brewed coffee, tea and homemade in house specialty cakes.
The one of a kind gelato flavors are posted daily on six framed black boards hung on one wall. The handwritten flavors and specials are the first thing you see when walking into the shop.
What makes Glyk a popular and unique place for the sweet tooth lovers that are health conscious are the fresh ingredients used in their gelato. They use fresh cream and homemade cakes to mix in for their different flavors. 
The people that work at Glyk seem friendly and knowledgable, greeting every customer as they walk in. They also encourage customers to sample the flavors to ensure you like what you are ordering. 
One of their delicious options includes their cheesecake and cookies and cream gelato. Some people seem skeptical of the sweetness of the combination of chunks of real cheesecake mixed with the cookies, but many say that is their favorite flavor. Some other favorites are the chocolate chip, peanut butter, Nutella, strawberry and mango.  
With the fresh ingredients used in making gelato, it is no surprise that the prices are slightly higher than you average ice cream cost ,as the price for a small gelato is $4.95.
Not every town is fortunate enough to have a gelato shop like Glyk, which is located at 7515 N. State Road 7 in Parkland. Although gelato is a little more money, the product is well worth the treat.