Annual college fair informs students about college opportunities
Carly Novell
February 16, 2017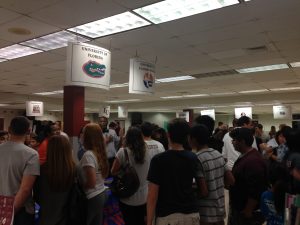 On Feb. 10, students and parents were given the opportunity to meet representatives from a variety of colleges, in state, and out of state in the Marjory Stoneman Douglas High School cafeteria.
The college fair took place in the cafeteria from 6 p.m. to 8 p.m.. Roughly 45 colleges attended the fair to give students information about the positive aspects of their university and to explain the requirements for attending, from GPA to extracurriculars.
"UF definitely looks for a well-rounded student. We have a holistic process meaning we're looking at their test scores and GPA, but we also look at their resume, everything they're involved in outside the classroom and their extracurricular activities," University of Florida Admissions Officer Keaton Lampkin said.
The event was organized by BRACE advisor, Eunice Ramirez and the PTSA. Colleges visit a variety of schools in Broward County for two weeks to provide information about their schools.
"I strongly believe the college fair is beneficial for students because they can learn about the schools and ask questions that they may have," Ramirez said. "Also, it's good for students to get to know the representatives, so when it's their time to apply, the representatives might recognize them."
All of the Florida schools were in attendance. Many students were interested in University of Florida and Florida State University; both had about a ten-minute wait to inquire information from the representatives.
"I think the lines for FSU and UF were the longest because they are both schools that people are really anxious about getting accepted to, so everyone was probably curious about what the qualifications are to get in," junior Jade Tywang said.
Every college offered brochures full of information about their school, including average GPA and test scores for acceptance, lists of available majors and opportunities for scholarships.
"I learned that there are many more scholarships than I thought for students who do not qualify for need-based ones," junior Sydney Tivoli said. "Out of state schools especially offer scholarships based on academics."
Meeting these representatives provide information to students directly from people who understand the contrasts between their school and other schools. Representatives aid underclassmen in understanding what colleges look for and how they would fit into these schools.
The college fair occurs each year in the Spring to give incoming seniors, and any other students interested, an idea of what colleges they might apply to in the future.