'Hidden Figures' will find itself an Oscar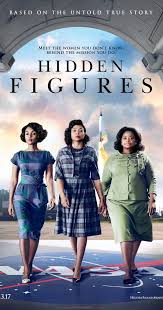 Einav Cohen
February 22, 2017
John Glenn's successful Friendship 7 launch portrayed the role of African American women in the brilliant film, 'Hidden Figures'. It premiered on Dec., 26 2015 and its box office has reached 127.5 million United States dollars.
Based on the book "Hidden Figures: The Untold Story of the African American Women Who Helped Win the Space Race" by author Morgot Lee Shetterly, director Theodore Melfi presented the strong work of the African American women mathematicians who made a huge impact on the advancement of the US space program, NASA, in the beginning of its time. The era of this nonfiction film took place in the early 1960s when the NASA's demand of calculations were crucial. As a result, they began to hire african american women to meet necessary mathematical skills.
Taraji P. Hensen plays a mathematical genius Katherine G. Johnson who is employed as the 'computer' for several of NASA's missions. Her accurate calculations are critical to the mission success. During the time of segregation and sexism, an African American woman working in a room of all white businessmen was unheard of. Hensen beautifully represents the extreme measures of her role.
Octavia Spencer played Dorothy Vaughan, a brilliant African American mathematician who helped startup the calculator that could solve necessary calculations. She was the head of the West Wing Computers at NASA, where all the colored women were placed. In the film she shows the lack of rights colored women attained in comparison to the white women and men.
The third main character of the biographical movie is Janelle Monáe who plays Mary Jackson, an overly intelligent engineer. At the time of the movie, becoming an engineer was a very difficult task as there were many university classes to take and complete. There were very few schools who offered the required classes near her, and to make things even more difficult, the schools were 'all white'. However, Jackson would not stop. She earned a court order for special permission into the all-white school. While providing for her kids in a demanding full time job in NASA, Jackson completed her requirements by taking night classes. She became the first african american female engineer in NASA.
The film consists of several more talented actors and actresses. It reveals the truth about the reality of who legitimately made the 'Friendship 7' mission possible. In the credits, Melfi had the liberty to supply pictures commemorating the brave women who effected America's success so greatly and gave us an idea of what the past was like for African American women.