The classic play Annie takes MSD's stage and captivates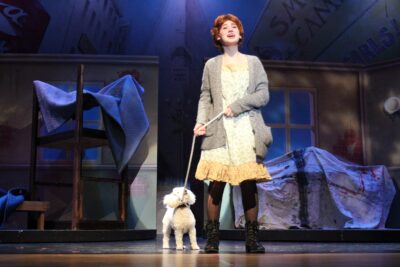 Amy Scarlata
March 14, 2017
On Thursday, March 2, Marjory Stoneman Douglas' Drama Department hosted the opening night of the classic play Annie at 7 p.m. Characters captivated the crowds until Saturday, March 4. On Wednesday, March 1 and Friday, March 3, the show performed for Eagle Ridge Elementary school during the day.
Senior Sheridan Lasher played July, one of the orphans.
"It was a super busy rehearsal process, but putting on the show was so much fun. My favorite part in the play was being able to work with my friends and just performing to the audience." Lasher said.
In the original play, Annie has a dog named Sandy, and MSD was able to have a live dog as an actor on the stage. Every night of the show, the audiences' faces lit up with joy and laughter in the moment that "Sandy" took the stage. Many MSD staff members and students attended the production, and even parents and outsiders were able to enjoy the characters.
Sophomore Ashley Paseltiner got the lead role of a lifetime as Annie.
"I was very excited when I found out I got the role. It was my goal to get this part, and I worked very hard in order to achieve it-I even started rehearsing the lines in December." Paseltiner said.
With the show such a success, many of the actors involved are happy and filled with accomplishment now that all of their hard work has paid off.
Senior Michelle Malove played the role of Miss Hannigan and had a blast. Malove explains her attachment to the play since it was her last performance in high school.
"My favorite part in acting in Annie was making the audience laugh, because it is very reassuring to what I've worked hard for with my character," Malove adds. "My character was Miss Hannigan, the mean spirited woman who runs the orphanage that Annie and the other orphans are in. I had a great experience doing Annie because it was my last high school show ever so it was very bitter sweet for me."
Parents and MSD staff were very proud to see their students and children participate in a such a successful performance. There will be many more plays and opportunities for other students to enjoy MSD's drama productions.