You would be blue without Blue Fin
Karter Cooper
March 10, 2017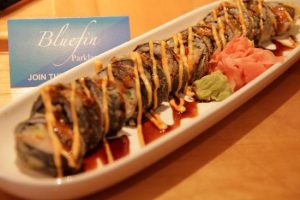 If you are looking for a delicious Saturday night dinner or even just a casual weekend lunch, then Bluefin is the place to go for a wonderful Japanese-Thai fusion experience, perfect for any occasion.
As customers walk into the restaurant, they are immediately presented with a bar in the middle of the room with sushi chefs and open seating. The restaurant gives off a comforting, warm atmosphere, and as customers walk in, they are welcomed with attentive service, greetings and a funny, inviting remark from the owner, Tim.
"I love working here because it's like no other place I've worked at where everyone is a family, and we all eat together before and after shifts and I've met my best friend through working here," worker Chloe Jones said.
They have outdoor and indoor seating along with a bar one can sit at when customers walk in.
Once inside, customers are shown a wide variety of sushi options to choose from off of the menu. Some food items include cucumber rolls, hand rolls and sashimi. They serve lunch and dinner, as well as dessert and have an $8 sushi bomb special every Tuesday.
I went in on a Tuesday and ordered the "Sushi Bomb Roll," which many of my friends had recommended I order. Thanks to the special discount on Tuesdays, I received $6 off from the original price of $14. The roll consists of Tuna, Salmon, Snapper, Avocado, Asparagus, scallion and masago tempura-style with tiger sauce on top. It is a delicious combination any sushi lover would enjoy.
I also ordered a Thai tea, a sweet, refreshing drink, brewed from Ceylon tea served in a tall glass or a large to-go soup cup. Tim brought my friends and I a sugary homemade foam to pour on top for an even more delicious sip.
The distinctive sushi rolls, amazing drinks and amiable service make Bluefin a surefire lasting local favorite.