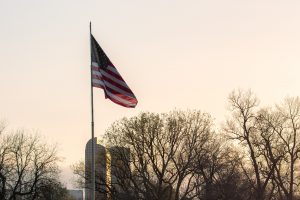 Undocumented immigration became a hotly contested issue during the 2016 presidential election. One of President Donald Trump's major campaign promises was to build a wall along the Mexican border to discourage illegal immigrants from crossing over into the United States. While the wall has not yet materialized, Trump took a major step in his fight against illegal immigration on Sept. 5, 2017 by rescinding the Deferred Action for Childhood Arrivals program (DACA).
DACA was established by the Obama administration through executive order. The program allows undocumented immigrants who came to the U.S. under the age of 16 to pursue higher education, be employed legally and receive protection from deportation. According to the National Public Radio (NPR), since fiscal year 2015 most DACA applications have been renewals, which indicates that not many new applicants are taking advantage of the system.
DACA was never meant to be permanent; former President Barack Obama continuously asked Congress throughout his term to create legislation that would reform immigration policy for these immigrants, nicknamed "DREAMers" after the proposed Development, Relief and Education for Alien Minors (DREAM) Act. However, without DACA or a similar program, the U.S. would be putting hundreds of thousands of young adults' lives in jeopardy, including dedicated students, workers contributing to the national economy and even soldiers serving in the military.
Some argue that DACA is unfair and that it enables the support of undocumented criminals and unemployed people benefiting from welfare programs, or that it simply expedites the citizenship process for these immigrants. However, DACA recipients are certainly not "legal," and they are required to have a clean criminal record in addition to continuing their attendance at a school, a job or military service.
Per the newest action from the Trump administration, the DACA program will be phased out and replaced with official Congressional legislation within the next six months; new DACA applications will not be accepted at this time. Trump and Attorney General Jeff Sessions both cited the same reason for this action against undocumented immigrants: they take jobs from Americans.
We need to ask ourselves, though: can we really call America the land of opportunity when half of the country is willing to snatch the rug from under the feet of thousands of hard-working people?
In my opinion, we would not be in this situation if the U.S. had a more efficient immigration system. The process of obtaining a visa is excruciatingly difficult for most applicants. Undocumented immigrants are the most desperate; they are willing to drop everything they know, everything they have grown up with, just to give their children a new chance at life. Many people do not consider the poor quality of life that these people are escaping from; Oftentimes, they come from places where they are constantly in danger of losing what little assets they have.
The desire for immigrants to assimilate is often the issue that causes people to oppose immigration. To a typical American, when they see a community of immigrants who barely speak the language, who do not associate themselves with American businesses stay within their own community of immigrants, it appears to be a gesture of unpatriotism. This is the image that drives chants of "build that wall!" and encourages this attitude of nationalism and xenophobia.
But what people need to realize is that these people are trying their best. When our immigration laws deny them education and a way to escape these small communities of homogeneity, there is no way for them to fully immerse themselves in the complex culture that has come to define America.
Immigration is a divisive, complex and layered issue and is very personal to many Americans who have gone through the process to become citizens. But, before we denounce immigrants for seeking opportunity, we must consider the conditions that caused them to leave everything they love in order to come to a place where they may be thrown out at any time. We must take into consideration not only the life they have escaped to pursue the "American dream," but also the ideals this nation was founded upon as the "melting pot" of the world.