Keeping up with the Gossip Girl cast
Makayla Manning
October 15, 2015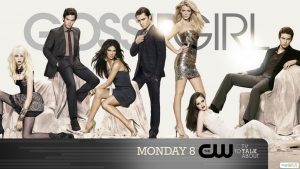 On Sept. 17th, 2007, an immediate love for the television series Gossip Girl spread among viewers across the country. The show started out as a popular book series about a group of wealthy teenagers living in Upper East Side, Manhattan who are constantly dealing with the conniving tricks and schemes directed at them from an anonymous online blogger known as "Gossip Girl."
The show became an instant success with its dynamic plot, trendy clothing, and a string of Hollywood's most popular actors and actresses at that time.
It has been over two and half years since the elite members of New York's Upper East Side left us with their finale goodbyes on the series finale. Even though the series ended with a happy ending for most of the characters, viewers are still in question of where their favorite cast members are at the moment.
Since the show's end, Blake Lively who played everyone's favorite "It Girl" Serena Van, has starred in some movies such as Savages and The Age of Adaline. Lively got married to actor, Ryan Reynolds, back in 2012 and just this last winter, she gave birth to a baby girl, named James Reynolds. Since her daughter's birth, Lively has been focused on her website and being a mother.
As for Leighton Meester who played Blair Waldorf, Serena's best friend and the "Queen B" of Constance Billards School, has also starred in a few movies. Since the show's end, Meester was in That's My Boy and Life Partners. Following a similar path as Lively, Meester got married to actor Adam Brody and gave birth to a baby girl, Arlo Day Brody this year.
"I'm Chuck Bass" was once a phrase that could make every girl swoon and no one said that famous line better than actor, Ed Westwick, who portrayed the opulent bad boy on the show. Besides from his role in "Romeo and Juliet" back in 2013, Westwick mainly stayed under the radar from the spotlight. However, recently it was confirmed that Westwick would star in the pilot for the upcoming ABC show "L.A. Crime" where he will go back to his bad boy ways and play a serial killer on the run.
Westwick's on camera dreamy partner in crime, Chase Crawford who played Nate Archibald, took a break from acting, but is now set to star in ABC's new show "Blood and Oil." Crawford will be playing a married man who moves to North Dakota with his wife and gets in trouble with an oil mogul.
Last but certainty not least, no one could never forget Upper East Side outsider and "Lonely Boy, Dan Humphrey played by Penn Badgley. Since the finale, Badgley has focused on his music career rather than acting and has been traveling around the country with his band, MOTHXR.