Review: Fyr & Ice brings spice to Coral Springs
Christy Ma
September 30, 2017
As one of the only places in Broward County that sells authentic Hong Kong egg waffles, Fyr & Ice exceeded my expectations and gave me a night to remember through savory and delicious ramen followed by sweet boba tea and crisp egg waffles.
When I walked into Fyr & Ice, which is situated on West Sample Road, I was immediately welcomed by the staff. The restaurant was clean with pop music playing in the background and workers always ready at the counter to take your order. As soon as I ordered my spicy kimchi beef ramen, fried tofu, Thai boba tea, octopus skewers and egg waffles, I was given a number to place at my table, and my food was brought out relatively quickly.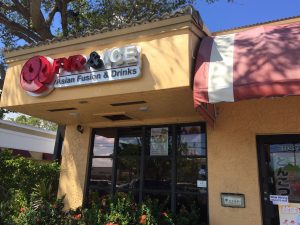 Since Fyr & Ice is rather new to Coral Springs, it is still in an experimental phase so some new workers may not know the ins and outs of the place. Depending on the time I went, my boba tea could be too sweet and lacking tea flavor or just right. However, in the past couple of times I have gone, the boba tea has been standardized and it incorporated a balance of tea and sweetness.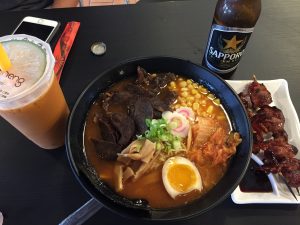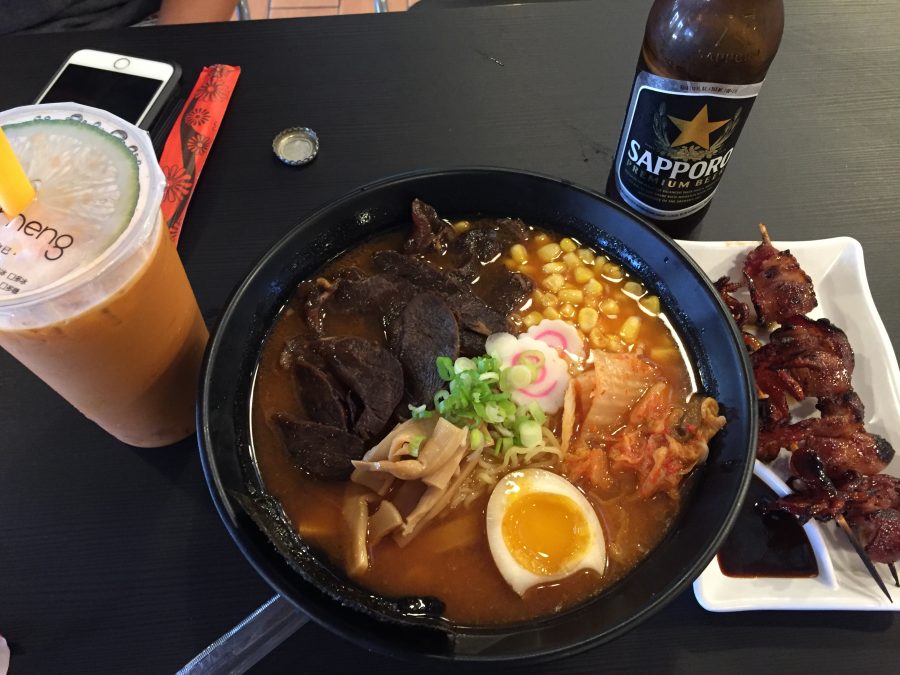 The fried tofu and octopus skewer appetizers were delicious, just like something one would experience on the streets of Asia. The fried tofu had a crispy exterior with Japanese-style breading and sweet Thai sauce, while the interior was white and soft. The octopus skewers were interestingly plated with five baby octopuses marinated in an Asian style sauce and roasted to have a savory yet sweet aftertaste.
Then came the main course: the ramen. The spicy kimchi beef ramen had a perfect balance of saltiness and spice in the broth, and I could tell that the broth was made with natural ingredients rather than the powder or artificial soup base many Americans are accustomed to. The boiled egg in my ramen was not overcooked and the yolk was left slightly runny, just the way I liked it. The ramen definitely tasted like a comfort food and brought warmth and some spice to my lunch.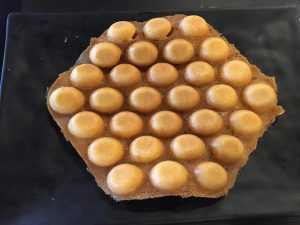 When I asked the owner how the ramen was made, she explained that the ramen noodles are imported from Japan and that the broth is based off of real homemade recipes using simmered beef bones and vegetables. The bowl of ramen tasted almost exactly like the ramen one would find in Chinatowns in New York or California and could even be compared to restaurants in Asia.
For dessert, I had a refreshing order of Thai boba tea and the Hong Kong style egg waffle. Unlike most boba tea places in South Florida, Fyr & Ice brews real tea rather than relying on powder, giving a more legitimate tea taste that matches those brewed in Asia. The Hong Kong egg waffles were crispy but fluffy inside, with a perfect balance of sweetness and egg flavor. I have had Hong Kong egg waffles in Chinatowns in Vancouver and New York City, and Fyr & Ice hands-down replicated the same tastes and textures.
Overall, my experience at Fyr & Ice was memorable, and this hidden gem has potential to be a hot spot for teens, adults and families alike.