Netflix releases "What Happened to Monday"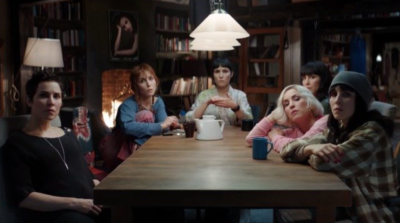 Einav Cohen
October 24, 2017
Population disputes are very popular in current news. The movie "What Happened to Monday" brings the population controversy to life. On Aug. 6, 2017, the mystery drama, "What Happened to Monday," directed by Tommy Wirkola, was released for the first time in a film festival in Switzerland. The screenplay was written by Max Botkin and Kerry Williamson. On Aug. 18, 2017, it was released in the USA on Netflix.
The film, which is two hours and three minutes long, received a rating of 61% on Rotten Tomatoes. It made a worldwide box office of 19,784,507 million USD overall.
In a world of overpopulation, a one-child policy is enforced. Seven twin girls are born, though, and their grandfather does not want to give any of them up. The girls live as themselves at home, but in the outside world, they all act as one individual woman. This leads the movie into a frenzy of violence when officials attempt to take down the family.
Watch the movie trailer here.
The septuplets are played by one actress: Noomi Rapace. She adopts the roles of the different personalities with amazing skill. Each sister is named as one day of the week- the day of the week in which that sister goes out in public. Adrian Knowles plays Marwan Kenzari, a government official who becomes Monday's love interest. Kenzari played the role very persuasively.
The movie portrays a more severe view of the population issue by using unsettling scenes of children being ripped away from their parents.
Rapace plays a geek, a rebel, a party girl, a hipster-emo, a druggy, a business woman, and a prude all in one movie. It is incredible how she creates a different persona for each sister. Each sister had her own way of dressing up and her own hair style to help Rapace show the differences.
The editing to create "What Happened to Monday" is incredible considering the many scenes with multiple sisters all played by the same actress. In certain scenes, all seven sisters would be present at a dinner table or fighting off officials. This likely made editing more difficult, but it was very impressive. The doubles did a great job of playing Rapace's characters in scenes like this.
Overall, the work and effort put into this movie paid off. It shows in the quality and success of the final piece. The actors play their roles with obvious passion and skill and "What Happened to Monday" was a plot like no other. The movie is a must-watch for any mystery, drama, or action fanatics.