Blood drive comes to MSD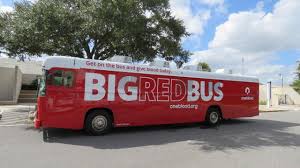 Fallon Trachtman
October 18, 2017
The Big Red Bus ready to be filled with those willing to donate bloodOneBlood, a mobile blood collecting company that has everything they need to save lives in a compact bus, will be returning to Marjory Stoneman Douglas once again on Thursday, Oct. 26.
The OneBlood company usually visits MSD two or three times a year. While around 260
people offer to donate, only about 150 of them receive the opportunity because students must meet some requirements to be allowed to participate. Traveling, past health conditions and levels of different components in blood are all factors that could cause someone to be denied the opportunity to donate. To be able to apply to donate, students must also be at least 16 years old and weigh 110 pounds.
"Some people have health conditions, some people have traveled out of the country, and a big part of it is that your iron is probably not high enough," JROTC member Ana Bracho said.
OneBlood must be very selective of the blood they accept due to the dangers of giving unclean blood in a medical procedure. Instead of helping people by giving them healthy new blood, the hospital would just be putting them at a higher risk for more complications to occur.
Once a student is allowed to donate blood, and their blood is tested as clean, the process begins.
Once they have been called out of class, the participants go out to the OneBlood bus waiting for them in the parking lot. First, OneBlood provides food and drinks to decrease the risk of nausea and lightheadedness, which are common side effects of losing a large amount of blood.
"The emotion of the day was nervousness. My stomach was full of food provided by the event as I walked onto the bus," junior Noah Parness said.
The blood donation process continues as the staff prepares the students for the needle and collects a pint of blood.
Once the student is done donating, they are required once more to drink and eat some food to further prevent them from having any negative side effects.
"A slight prick and an hour later, I was a pint short of blood, but about five apple juices richer," Parness said.
Once the process has concluded, students receive a t-shirt for participating in the generous cause. It serves as a souvenir that will remind students of the good deed that they have been a part of. Besides the material benefits, students get the satisfaction that they have helped save three lives with their contribution.
The blood that is donated is used all over the world. The donations are especially appreciated in areas that have suffered from natural or artificial disasters.
"Recently they sent a lot to Puerto Rico," Bracho said.
For each pint of blood that MSD donates to OneBlood, the school receives $20 towards student scholarships. At the end of the year, one hard-working student is picked to receive the scholarship money earned from the blood donations.
"If we meet our goal this year we'll get $6,000 in scholarships," said Bracho.
MSD continues to work with OneBlood year after year and contributes to people in need.