[Brief] Men's bowling team defeats J.P. Taravella High School
Richard Doan
October 23, 2017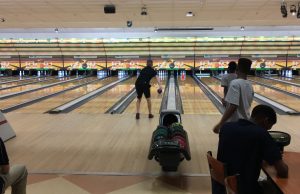 On Monday, Oct. 9, the men's bowling team defeated J.P. Taravella High School at Sawgrass Lanes as the bowling season winds down.
The men remain undefeated as they earn another win at Sawgrass Lanes.  Senior Devon Weisenfeld and senior Cameron Price led the team to victory scoring 224 pins and 228 pins, respectively. With their contribution, the men's bowling team totalled 860 pins in the first game and 824 pins in the second. The team's positivity and spirit powered their win over J.P. Taravella High School.
"I am proud of our team for our strong performance throughout the length of the season," captain Ryan Schachter said. "J.P. Taravella played a good game, but in the end we are glad to come away with the win. We look forward to the games and hope to continue to improve upon our past performances."
The next match will once again take place at Sawgrass Lanes on Tuesday, Oct. 10 at 3:30 p.m. against Miramar High School.