Senior Allison Kerce prepares to play for Cornell's softball team
Suzanna Barna
November 9, 2017
*This story was originally published in the first quarter issue of the Eagle Eye*
Since she was 8 years old and playing for the Coral Springs Panthers, senior Allison Kerce has embodied the essence of leadership on and off the softball field.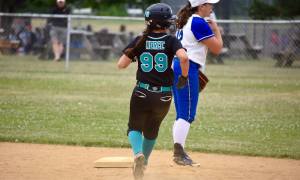 "[Softball] gave me the opportunity to develop my leadership [and] to decide what I wanted to do with my own life," Kerce said.
Continuing to develop her skills with the West Pine Diamond Dusters, based in Pembroke Pines, Kerce trained rigorously as a second basemen. Skilled in various positions, Kerce now plays as shortstop on the Marjory Stoneman Douglas High School varsity softball team.
Resulting from strenuous practices, Kerce has suffered numerous injuries. This past summer, Kerce played a four-week travel softball season on two broken ankles in order to lead and support her teammates.
"It was putting my team before me; I wanted their success more than I wanted my own," Kerce said.
Jeff Norman, Kerce's former coach at the Diamond Dusters, aided her success as her greatest mentor, helping her and her teammates understand what level of dedication and drive is necessary to enter college softball. Norman's influence was present when the team placed 15th for tied scores out of 53 teams at USA Gold 18U Nationals in Oklahoma City, Oklahoma in July 2016.
Besides Nationals in Oklahoma City, Kerce sees her commitment to Cornell University as her greatest achievement in her career thus far. She is eager to help Cornell rebuild its softball program and set precedents for the future. Kerce also appreciates the quality of education that Cornell will provide for her , allowing her to continue soaring academically in addition to athletically.
Kerce aims to become an NCAA All-American for both academics and athletics by the end of her four years at Cornell.
Following college, Kerce hopes to use her economics major and minors in statistics, accounting and finance from Cornell to own a major league baseball team.