Sophomore Angelina Brier participates in the Macy's Thanksgiving Day parade
Brianna Fisher
December 11, 2017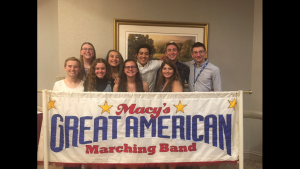 Marching down Sixth Avenue, sophomore Angelina Brier performed the clarinet with the Macy's Great American Marching Band during the 2017 Macy's Thanksgiving Day Parade in New York City.
"I first found out about the band when I saw them in TV at Thanksgiving in 2016," Brier said. "I wondered what it was and how to audition, so I looked it up online."
After a period of research and searching for how to grasp this opportunity, Brier found out the audition requirements and decided she wanted to join the band. In February, Brier sent in a recorded audition to the band's management.
"I decided to audition and participate because I watch the Macy's Thanksgiving Day Parade every year with my family, and I thought that it would be a really amazing experience if I could actually take part in the parade myself," Brier said.
According to Brier, her interest in playing an instrument and producing music started in sixth grade when she started to play clarinet. Now, Brier plays the clarinet for the Marjory Stoneman Douglas High School marching and concert band and the tenor saxophone for jazz band.
When she first auditioned for the Great American Marching Band, she did so with the intent of fostering her passion for music and gaining the opportunity to show her talent on a larger scale; however, unknown to her initially, Brier would end up bonding with many people who share a similar interest and making lifelong friends.
"I did not know anyone when I first auditioned for the band but later found out that one of my friends that had moved away a couple of years ago was going and that my friend from American Heritage was going as well," Brier said.
Once in New York, the preparation for the show was long and overwhelming, according to Brier. Nonetheless, she was able to experience the culture of New York along with its tourist attractions while she spent time working with music.
"We had rehearsal in New Jersey in a Sport Complex," Brier said. "When we were finished, we participated in tourist activities in New York, such as visiting the World Trade Center, shopping at Times Square and seeing 'School of Rock' on Broadway."
On the day of the parade, Brier had to wake up at 1:40 a.m., load buses at 2:40 a.m. and rehearse from 4:10 a.m. until 5:10 a.m. From there, they had breakfast at 7 a.m. and waited until the start of the parade at 9 a.m.
"It was really cool to see celebrities like Sabrina Carpenter and Flo Rida waiting in line with us," Brier said. "The best of all was the Spongebob float right in front of us and Santa's float behind us."
Brier can now say that she has been able to perform in the parade, which is something that many people do not get to do. Brier not only met other band members and students, but also celebrated Thanksgiving in New York City.
"This experience provided lifelong memories and insight on what musicians are doing in other high schools around the country," Brier said. "It was a really amazing experience, and I was able to become friends with such amazing musicians from all over the country."
While this experience was incredible for Brier, she had to miss out on her family's Thanksgiving in Parkland, Florida.
"I don't think I would do it again only because I did miss out on being with my family for Thanksgiving this year," Brier said. "That being said, I'm really glad that I got to participate this past year."
Brier was able to witness the Macy's Thanksgiving Day Parade in person in New York City and perform alongside hundreds of high school band members with Macy's Great American Marching Band. Now, Brier is able to reminisce about the experience from the comfort of her couch next Thanksgiving.