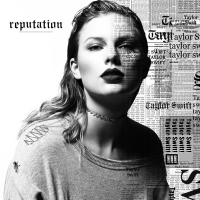 Taylor Swift has never had a perfect reputation. Even at her sweetest, there was still a flurry of media buzz surrounding her with gossip from potential engagements to "beef" with other celebrities, namely her seemingly eternal feud with Kanye West. She has been called disingenuous, cold, calculated, and many other, worse things. Now, in her sixth studio album, "Reputation", she attempts to embrace all those nasty monikers.
The album has attracted immense publicity with near constant posts of lyric analyses and theories. Listeners—whether they are fans of Taylor Swift or not—have become enraptured in the whirlwind of drama produced in response to her love life, celebrity feuds and controversial political stances. The album is so interconnected with the media around it that it has become hard to separate the two. But once one does, an unfortunate truth comes out: reputation is nothing special.
It is not to say the album is terrible, because it is not. If anything, it is adequate, providing some infectiously catchy beats and lyrics to invade the brain of even the least interested listener. There is some visible attempt to branch off from her previous albums, most prominent in songs like "End Game," which features a rap verse by Future. Nearly every song possesses a strong, if generic, beat that could be found in nearly any successful rap song today.
The problem is, there is a severe dissonance in Taylor's new music. The beat to most songs is fun and can be blasted in nearly every car, but the lyrics do not match. Taylor's voice, the notes and the lyrics she has written are simply so "Taylor Swift" that they can not be placed with a strong beat. Swift works best in acoustics or bubblegum pop that is easily digested. These strange attempts at being edgy do not match lyrics like "guess I'll just stumble on home to my cats, alone."
Certain attempts work better than others, such as "I Did Something Bad," which is her most risque song yet, even featuring profanity. The persona Taylor takes on seems to switch at a moment's notice, from sexy to dangerous to sweet, until it gets so overwhelming that you can not really be sure what she is trying to be. The name of the album may be "Reputation," but the reputation she is going for is not quite clear.
Ultimately, the album is at its best when Swift forgoes all of the brash sound and overcompensation. In the song "New Year's Day," listeners are given a refreshing change: a track backed by piano only. It is quiet, it is beautiful and it is genuine. It seems to let the true Taylor Swift shine through—the one less caught up in being the "bad girl." Swift simply needs to stop trying to fit a reputation and embrace herself.