Former Director John Rusnak inducted into the FMBC Hall of Fame
Kevin Trejos
January 9, 2018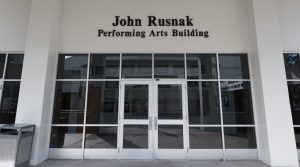 *This story was originally published in the second quarter issue of the Eagle Eye*
Former band director of the Marjory Stoneman Douglas High School Eagle Regiment, John Rusnak, was inducted into the inaugural Florida Marching Band Championships' Hall of Fame on Nov. 14, 2017 along with four other individuals.
Rusnak directed the MSD band from the school's foundation in 1990 until his passing on August 5, 2014, participating in many FMBC competitions and winning the 2009 Class 3-A Championship.
Rusnak suffered a heart attack and passed away unexpectedly in his Coral Springs home at the age of 58.
Under his direction, the Eagle Regiment performed at prestigious events and state competitions.
Rusnak showcased the Eagle Regiment at various special appearances, such as the 1996 Thanksgiving Day Parade and the 1999 Tournament of Roses. Since his passing, Rusnak has received other commemorations of his legacy.
On Feb. 4, 2015, the City of Parkland formally commemorated Rusnak's legacy. On Feb. 22, 2017, Broward County Schools formally approved the dedication of the MSD auditorium, home to the band's countless performances, to Rusnak with the name, "John Rusnak Performing Arts Building."
The ceremony commemorating the dedication took place on April 20, 2017.