Local escape rooms provide entertainment for students in Parkland area
Fallon Trachtman
January 10, 2018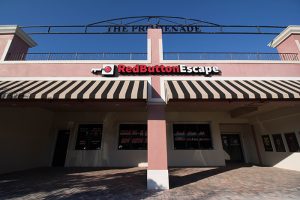 *This story was originally published in the second quarter issue of the Eagle Eye*
For those who enjoy thrilling challenges to test their intelligence, escape rooms are the perfect activity for a night out with friends. Every object in the room is a potential clue waiting to be uncovered. Constant puzzling obstacles, a one-hour time limit and foreboding room themes are all characteristics that add to the suspense of escape rooms.
What starts in one small, average room is soon proven to be multiple rooms branching off of each other. Clues are revealed within everything from picture frames to the floorboards. Just when the mystery seems to be solved, another challenging dimension is revealed.
The experience begins with a staff member locking the participants in a room for an hour with a limited number of hints.
At the Red Button Escape Room located at 9705 W Sample Road in Coral Springs, the room options are "jewel heist," "prison break," "space station" and "Mayan temple." The hours of operation are Monday through Thursday from 10 a.m. to 10 p.m. and Friday through Saturday from 10 a.m. to 12 a.m. Each game is $30 per person.
The "jewel heist" room is a 1960s-themed obstacle with retrolighting, furniture and decor. The "prison break" room, based off of Alcatraz and Eastern European jails, has multiple cells that each participant has to be locked in separately as part of the challenge.
The "space station" room opens soon and will contain multiple levels, water effects and sci-fi inspiration. The "Mayan temple" room will also open soon and will be based on the movie "Indiana Jones."
"We pride ourselves on designing our buildings specifically for the purpose of being escape rooms," Red Button Escape co-founder Michael Barton said. "We come up with original themes, and the main goal of our rooms is always to find and press a red button."
If the groups participating in these escape rooms can crack the case in under an hour, they win. This challenge requires participants to think and demonstrate creativity at every corner.
"It's great for teambuilding and is really a mind game that requires more mental skills than physical," co-founder Travis Butler said. "Teams can work together to find clues and solve puzzles to gain trust and faith in each other along with themselves."
At the Parkland Escape Room located at 10880 Wiles Road in Coral Springs, customers can choose from "the emergency room" and "the vault." This facility is opem every day from 1:30 p.m. to 10 p.m. The objective is to escape the room and solve the mystery using as few hints from the staff as possible. The rate for an hour is $25 per person. Discounts are periodically offered.
"It was so interesting to see how so many clues work together and are hidden in plain sight," sophomore Katrina White said. "I would highly recommend this activity because it kept me thinking and entertained the entire time the mystery was unsolved."
This is an activity not only for team-building, but also for challenging oneself.