Local nature center provides informative experience for visitors
Samantha Goldblum
January 10, 2018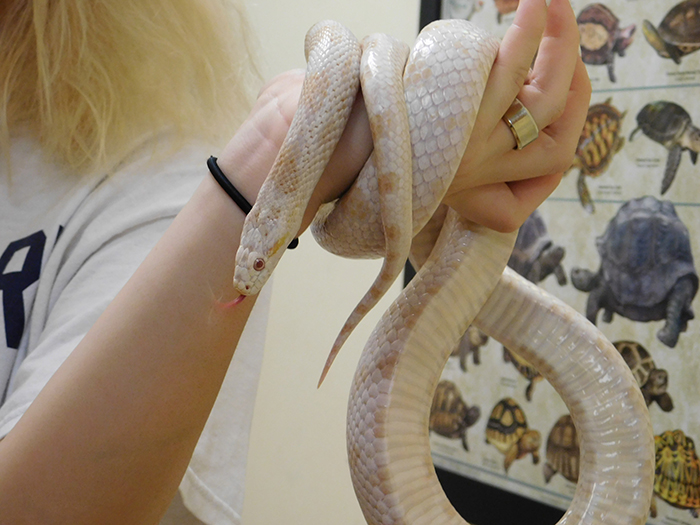 *This story was originally published in the second quarter issue of the Eagle Eye*
The Sawgrass Nature Center (SNC) and Wildlife Hospital, located just 5 miles from Marjory Stoneman Douglas High School, is a non-profit organization dedicated to helping animals. Founded in 1995 by a group of volunteers, SNC's mission is to educate the public about South Florida's environment and the many species that inhabit it in order to promote healthy living and provide care for sick, injured or orphaned wildlife.
At any given time, one can observe approximately 30 different animals that live there such as snakes, turtles, birds and even some rodents.
"Since its creation, the organization has worked toward their mission goals by not only providing treatment for animals in need, but also by promoting public education about the environment, responsible pet ownership and injured wild animal rescues.
SNC has summer wildlife camps and informational programs both on and off-site. The organization is a resource for people who find injured or lost wild animals and for people who need to give up exotic pets.
A small staff and numerous volunteers provide services made possible largely by individual and corporate donations.
"The volunteer program here has taught me great leadership skills as I give tours around the facility, and I get to constantly interact with animals that most people do not see in their everyday lives," volunteer Pavan Vutor said.
Along with rescuing animals, the center also offers a summer camp program. At the camp, the children learn about wildlife and have encounters with interesting animals that live at the nature center.
"I've been going to the Sawgrass Center since I was a little girl at about 8 years old because of my love for animals," freshman Lindsey Salamone said. "I started out as being a camper and am now proud to say that I am a counselor there and enjoy the time I spend there."
Visitors are welcome to wander around or tour the facility on Tuesdays through Fridays from 9 a.m. to 5 p.m. or on Saturdays and Sundays from 10 a.m. to 3 p.m.
SNC charges a $5 admission for adults who are 18 years or older and $3 for children 5 to 17 years old. Children under 5 years old and SNC members are welcome without charge. On Sundays, the center waives its admission fees, but they encourage donations from guests.
The SNC and Wildlife Hospital is located at 3000 Sportsplex Drive in Coral Springs. The park offers service hours to students willing to volunteer.