MSD Science National Honor Society revives the Science Bowl
Nikhita Nookala
January 22, 2018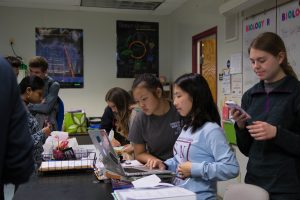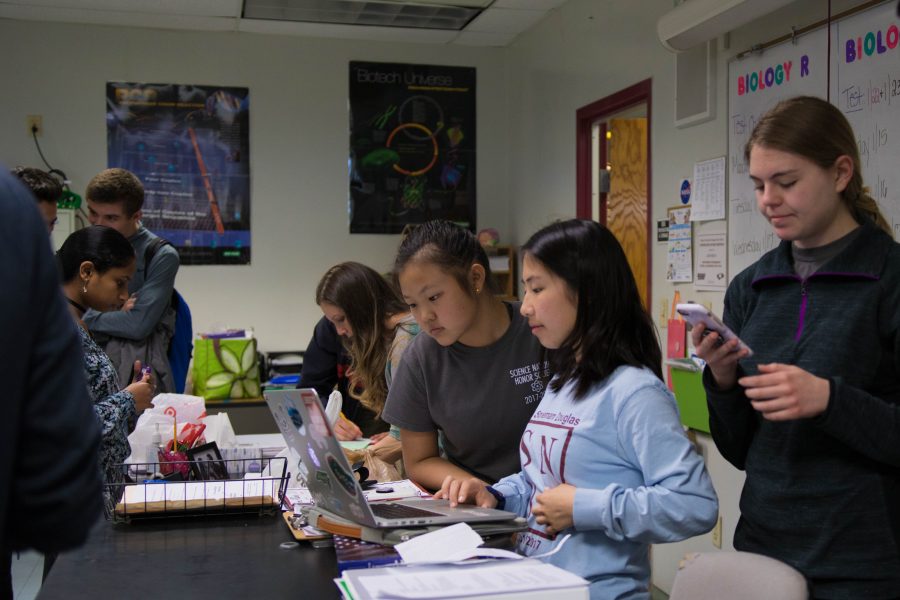 The Marjory Stoneman Douglas High School chapter of Science National Honor Society is restarting their competitive Science Bowl program at MSD with competitions in topics such as astronomy, chemistry, biology and anatomy. The program has not been incorporated at MSD for the last few years, and its revitalization has been one of the goals of SNHS co-presidents Nicole Anderson and Yijie Huang.
"I'm super excited that we are bringing back science competitions. The preparations that go into the competitions can be a lot of work, but it is totally worth it," Anderson said. "Science competitions encourage members to actively engage with the scientific community in a new way."
The National Science Bowl competition was founded by the U.S. Department of Energy in 1991 to encourage American students to participate in and pursue careers in science, technology, engineering and math, also known as STEM fields. The competition is conducted at the middle and high school level, and has participants compete at regional, state and national levels.
At MSD, there are three teams consisting of four members each. Potential members tried out in October to be placed on one of the teams with the best four candidates being placed on the official team and the other eight on the two alternate teams. Currently, the official team consists of seniors Zachary Huang, Carmen Schentrup, Elijah Abraham, and junior Marcelo Garcia.
In addition to the National Science Bowl, SNHS also formed a team for Science Olympiad, a separate competition that is notorious for being highly competitive. Similar to the National Science Bowl, Science Olympiad is a non-profit organization committed to increasing student interest in the sciences through the program. About 300 tournaments are held every year at the regional and state level, in addition to about 100 practice invitationals.
"Preparing for science competition has shown me more specific and real life applications of what we learn in the classroom and how the real life application of our knowledge compares to how we apply our knowledge in school," Science Olympiad paticipant Christian Walk said.
Amanda Hall, the captain of the Science Olympiad team, believes that the competition is a valuable learning tool.
"The STEM fields are some of the most lucrative and fast-growing fields in today's society; therefore, programs such as Science Bowl and Science Olympiad are essential for allowing students to develop and pursue their passion for science as well as expanding their knowledge in such fields," Hall said "In the case of Science Olympiad, students are pushed to apply their knowledge by performing experiments, building and diagnosing in what-if situations."
The competitions themselves, according to Huang, are divided into three types: lab-based, pre-built and research events. The entire team consists of 15 members, all of which compete in various subject areas, such as experimental design, ecology, earth science and physics.
The qualifying regional competition for the National Science Bowl takes place on Feb. 24, and based on the team's performance, they may be able to participate in the national competition on April 26.
Through restarting interactive programs like this one, Anderson hopes to reinvigorate interest in  SNHS and encourage students to try something new that they probably would not have done otherwise.
"We're happy to see that more and more people are joining the club. Personally, I'm so grateful to be apart of SNHS; it is truly a wonderful experience," Anderson said. "I hope that through the club and competitions, members can develop a strong passion and appreciation for science that I was so fortunate to gain from my experiences there."
Science competition practice takes place on Wednesdays in room 934, and the Science National Honor Society meets on the second Wednesday of every month in room 934.