H&M sweatshirt sparks racism controversy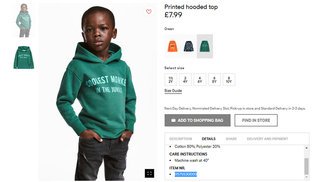 Fallon Trachtman
January 23, 2018
An advertisement on H&M's website has recently gained popularity due to accusations of racism and poor taste.
The ad featured a young African American male modeling a sweatshirt that read "Coolest Monkey in the Jungle." This caused an outcry against the proclaimed racism, particularly on Twitter. Along with ordinary people publicly stating their opinions about this ad, celebrities voiced their thoughts online.
"Woke up this morning shocked and embarrassed by this photo. I'm deeply offended and will not be working with @hm anymore…" The Weeknd said in a tweet.
Although many were offended by this sweatshirt and model pairing, others thought that it was being blown out of proportion.
"I'd say I have a mixed opinion because I can understand why people would be offended by that and why that could be an issue but at the same time I don't think it was an intentional thing," sophomore Delaney Metcalf said.
The Swedish clothing company has received negative feedback not only on social media, but also in the form of less than peaceful protests. On Jan. 13, angered South African protesters ransacked several H&M stores, forcing the company to close in the region. According to police reports, officers were forced to fire rubber bullets to disperse the crowd that tore down displays and wrecked clothing.
In light of the social media uproar and public protests, H&M released several statements apologizing for the "poorly judged product and image."
"We sincerely apologize for offending people with this image of a printed hooded top," H&M's spokeswoman Anna Eriksson said.
Once the company realized that people did not want an apology for offending people of color but for them to admit that they had made a mistake, they attempted apologizing for a second time on Jan. 9.
"Our position is simple and unequivocal—we have got this wrong and we are deeply sorry," H&M's statement read.
Although they have now attempted to apologize twice, the tension on social media has remained apparent.