Douglas Night Live's third annual appearance introduces new skits
Christy Ma
January 30, 2018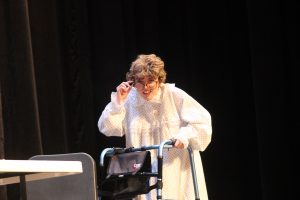 On Thursday, Jan. 25 Marjory Stoneman Douglas High School's drama department hosted its third annual Douglas Night Live show, based off of the show "Saturday Night Live" on NBC,  showcasing students' comedy skits that reference relatable ideas and modern topics in school and in the world.
"I was in three skits: 'Douglas Update,' which I wrote, 'Girl Scouts' and 'School Club Hunger Games,'" junior Alex Wind said. "We prepared by writing the skits as our midterm and then selecting which scenes would be performed and who would be in them and then rehearsed."
The show began with English teacher Brittany Sinitch and MSD alumnus Devin Loveli discussing topics ranging from Dance Marathon to the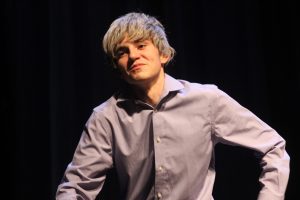 bathrooms at MSD that do not seem to change.
The show then opened to student skits such as "Personalization," "Spelling Test," "Meet Your Match" and "Superfan," giving a glimpse to the creativity drama students hold and satirizing MSD activities such as personalization period and school clubs.
"I loved being creative with writing for Douglas Night Live because we're always normally confined to perform what is given in front of us, yet now we were able to write our own scripts," Wind said.
MSD drama plans on continuing the relatively new tradition for future years with new skits and musical performances.