MSD begins recovery process with Sunday Orientation
Hannah Kapoor
February 26, 2018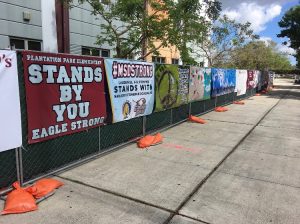 On Sunday, Feb. 25, Marjory Stoneman Douglas High School welcomed students back to campus for the first time since the shooting on Feb. 14. The orientation, which lasted three hours, initiated what is expected to be a long and difficult healing process.
Teachers had returned to campus the Friday before on Feb. 23, and happily greeted students on Sunday as they traveled classroom to classroom to say hello.
"I didn't really think that I would be nervous, but walking up to the school I could feel my heart beating faster and faster," junior Pinaki Upadhyay said. "But when I saw my friends and started talking, everything started to feel normal and I calmed down."
The purpose of the event of was to ease students and families back into the MSD environment without any academic constraints. As the community united amid sorrow and loss, they embraced an opportunity to work towards a new sense of normalcy.
"It was nice to see my teachers again and everyone was just so much more sensitive and caring," junior Melanie Cardoso said. "It created a more calming environment."
There was no set schedule for the orientation. Students were directed to head to their fourth period classrooms, or to the gymnasium, to retrieve their abandoned belongings and then spent the remainder of their visit interacting with friends and staff, or counselors if they wanted.
Students were pleased to see that all rotting food had been removed from the bags in order to prevent further damage.
"Everything went very smoothly," Upadhyay said. "The backpacks were lined against a wall but it felt a little bit strange being back in the room."
While students found some comfort in their return to campus, certain changes, however, were difficult to go unnoticed.
Primarily, there has been an increase in school security and police presence. Not only were families informed that undercover police would remain on campus, both students and parents were expected to come with IDs.
"Obviously I wish [the police]  never had to be here in first place but I can understand why it's necessary for them to be here," Upadhyay said.
The 1200 building, where the shooting took place, was fenced off, with windows either boarded with wood or covered in black paper.
"The building didn't look the same. It felt like they had taken it out of some TV show and just put it in the middle of our school," Upadhyay said. "The fence around it made me feel really anxious… but all the banners around the school and around the building were really touching."
Adorning the fence and many walls of central campus are countless posters displaying support from not only local institutions, but also the entire nation.
Countless therapy dogs roamed the campus with their owners, and are expected to stay on campus to aid students in their recovery during the week.
"I love the dogs," Upadhyay said. "They made the atmosphere a bit more comforting."
Students such as Upadhyay point out a silver lining amidst this tragedy: a bond between students, staff and the school as a whole that is stronger and more compassionate than ever.
Principal Ty Thompson, who promised in a public statement to hug each and every student upon their return, kept his word to its fullest extent.
"It felt nice to hug him because we don't really get to see him that much because he has a lot of things to do," junior Christian Walk, who waited half an hour to hug Principal Thompson, said. "It was nice to see that he was one of us. It reflected that everyone wanted to give a hug to their leader."
Thompson stood in the cafeteria for the entirety of the orientation, while students and parents waited in line to hug their beloved principal.
"I think my hug counter is broken, but I am over 3000 for sure, but got lots more available. I know those hugs definitely helped me; hopefully you feel the same," Thompson said in a message to the school the next day.
Students and staff agree that the social interactions of the event have better prepared the community for the continuation of the school year. Although a long and emotional recovery process has only just begun, MSD has proven it will walk this difficult path united.
If students feel unready to return to campus, they may continue their recovery process at home without penalty. Counseling services will continue to be provided at the Parkland Recreation and Enrichment Center, and will also be available at MSD.
"The time has come for us to reclaim Marjory Stoneman Douglas High," Thompson said.
Classes will resume Wednesday, Feb. 28 with an early release schedule for the remainder of the week.