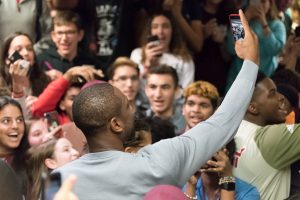 On Wednesday, March 7, NBA Miami Heat player Dwyane Wade paid a visit to Marjory Stoneman Douglas High School to meet with and show his support for students after  the shooting that resulted in the death of 17 people at the school three weeks prior..
"Our goal is to try to figure out ways that we can do more to help," Wade said. "That's what today is— to come and see how we can help make a bigger impact."
Wade arrived during the students' first lunch period. A wave of excited students rushed toward the cafeteria where he briefly greeted them.
He was then ushered to the leadership room where teacher Danielle Driscoll's leadership class along with Lauren Rubenstein's peer counseling class awaited his arrival.
One of the victims, senior Joaquin Oliver, admired Wade and Miami Heat so much that his parents decided to bury him in Wade's jersey. Wade was extremely touched by this and decided to honor Joaquin by meeting his family and dedicating his season to him.
"[Joaquin's] story, it really connected with me," Wade said. "You never really know the impact that you have on someone and the influence that you have. When I heard that his mother and his father and his family decided to bury him in my jersey, to me, that was out of this world. How did I become a person, that in a tough moment for a family, they found joy in what he wanted, in burying him in my jersey?"
He greeted two of Joaquin's best friends during the meeting in the leadership room, seniors Julien Decoste and Darius Trotman.
"I know Joaquin was up there going crazy right now, so I know he's happy," Decoste said.
Wade also welcomed questions from students in the room. He connected the story of the MSD shooting to the gun violence crisis in the streets of Chicago, where he is originally from.
"Growing up in Chicago and seeing Chicago now today, I'm 36, and it hasn't changed… it's only gotten worse," Wade said.
Wade was personally affected by gun violence when his cousin, Nykea Aldridge was killed in the streets of Chicago just a week after he moved back to the city to play with the Chicago Bulls.
"It let me know that the message of me being back in Chicago was bigger than basketball. It really is about what impact I can make in the community," Wade said.
He stressed the importance of positivity, even in dark times, mentioning his organization called Spotlight On. The purpose of the organization and initiative is to shine a light on children of Chicago and help to "provide them with better futures," according to the website.
Wade commended students on speaking out and offered his help due to his large platform as a professional basketball player.
"I understand the power of my voice," Wade said. "I speak for the ones that don't have a voice… That whole 'just being a basketball player,' I'm so not that."
Following his meeting with peer counseling and leadership students, he met with the leaders  of the Never Again movement who are organizing the March For Our Lives. They discussed the purpose of the march and how Wade can get involved.
"The march is a symbolic statement that we have this much support, and that we want change," junior Adam Alhanti said to Wade.
The leaders of the movement came up with the phrase "get the ball rolling" to encourage professional athletes to spread the word about the march by donating or posting on social media.
"We definitely wanna make sure that we're doing the best to support," Wade said. "We don't want to do anything just for show, we want to do something impactful."
Wade's continual support for Joaquin, MSD and the Never Again movement reassured students of their basketball icon's positive intentions. They commended him for meeting with them and offering to help make a change.