Men's lacrosse team lets 17 balloons go before game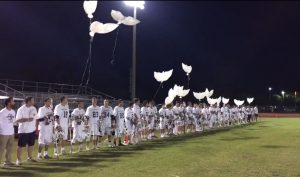 On Friday, March 9, the Marjory Stoneman Douglas High School's men's lacrosse team let go of 17 balloons in memory of the 17 lives lost before the game held on the football fields of MSD.
"We just want to make an impact on the community and show that we are with the school," Midfield Zack Rassman (2) said. "As a team we tried to stand together as one just like any other sports team."
The coaches of the lacrosse team, parents and Rassman came up with the idea and thought it would be a positive start to the game. They felt this would bring an uplifting feeling of closure to the team and crowd as they recover from the recent tragedy and get re-accustomed to their everyday schedule. The MSD men's lacrosse team played against Cardinal Gibbons. Before the game had started, the Cardinal Gibbons lacrosse team brought flowers to offer their condolences before the game started.
After releasing the balloons, they all came together as a team and to talk about it to instill a positive attitude for the game.
"After releasing the balloons, we all came together as a team and talked about it to put emphasis on the game that we needed to win, and we needed to play as a team," Rassman said.
There was a tremendous amount of support from the coaches, players, observers and opposing team. Although the two teams both wanted the win, before the game as they were releasing the balloons both teams and everyone else in the bleachers had to come together to commemorate the lives that were lost.
"I think it was a good thing to do before the game, and it definitely helped the team play out on the field," Attack Gwyneth Bishara (22) said. "Also the releasing of the balloons brought the two teams together, and we had a positive and uplifting moment before the game."
In the end, the MSD men's lacrosse team won the game with a score of 11-4. The team celebrated their victory by dedicating the win to the victims of the shooting. The women's lacrosse next game will be held on March 13 at St. Thomas Aquinas, starting at 6 p.m. The men's lacrosse next game will be held on March 13 at home, starting at 7 p.m.