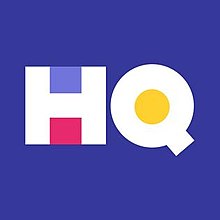 With over 2 million applications available for Apple and Android users, developers struggle to gain popularity for their apps among the ever-popular apps such as Facebook, Candy Crush and Spotify. But every now and then, a new app stands out among the millions available. Most recently, HQ, a new free trivia game released in August 2017 on iOS and on Android in January 2018 has risen in rankings.
"I 100 percent would recommend this app to others because it's highly addictive and educational," sophomore Rachel Taylor said.
HQ is a live trivia game show in which people can win up to $25,000 and as little as $2,000. It goes live every day at 9 p.m. and weekdays at 3 p.m. HQ, which quickly grew in popularity, is currently rated as the number 1 trivia game with 3.4 out of five stars on the Apple app store.
The app has been played by 400,000-600,000 participants per broadcasting and can average around 1 million players on occasion.
"It brings my family together. It is a daily event for us every night at 9 o'clock. We all sit on the couch together and play HQ. I also love the competition aspect — how you play for real money because most games don't offer that," junior Hayley Siegel said.
HQ was created by Vine creators Rus Yusupov and Colin Kroll. The app cycles through multiple hosts including Sharon Carpenter, Sarah Pribis, Casey Jost and Scott Rogowsky.
There are multiple speculations as to what exactly HQ stands for. When asked about this, Yusupov and Kroll made no comment.
Rogowsky is known to call players "H-cuties," and the questions, "savage questions," and makes puns such as "We're making quiztory." He broadcasts from New York City, where he is also a part-time, stand-up comedian.
"Scott is my favorite host because he gets to the point makes funny quotes and does not make the beginning of the game boring," sophomore Noa Golan said.
Throughout the game, the hosts ask players a series of 12 questions for which the players have 10 seconds to decide on one out of the three answer choices. These questions get progressively harder as the questions continue.
"One night my mom's boyfriend and I were playing and made it to question 12 by guessing our way through. We could have won $21.76," senior Ashley Schulman said.  
However, the app does have some problems. Many times, the app glitches due to an overwhelming amount of players and at times, hackers attempt to release answers to the general public. This can often make players frustrated and see little use in playing the app if it doesn't work.
With all of its questions and rounds, HQ is quickly gaining media attention and a following. Based on its growth in popularity, HQ looks to become even more popular in the future.