Review: I Heart Mac n Cheese offers customizable dishes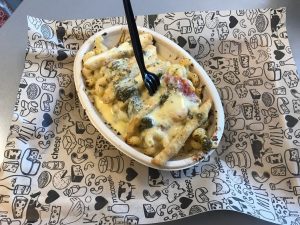 I Heart Mac n Cheese, a recently opened restaurant in Parkland, stands out from others because of its unique option of customized macaroni and cheese. Since its opening in late 2017, it has already attracted many residents in both Parkland and Coral Springs.
The "baked chicken chef special mac and cheese" was quite delicious. It was a bit too cheesy, but otherwise the marinara sauce and the chicken balanced it off well. All of the chef specials are at reasonable price of $7.95, with a large amount. The chef specials are also all available as a grilled sandwich. If you order a to-go meal, it is important to make sure that the food is well packaged. Otherwise, the oil and the sauce can all spill out, leaving the bag and food package drenched in oil.
Another popular choice is the customizing station. First, customers pick the type of pasta and then choose one meat topping, two veggies and one cheese from a wide array of options. After the meal, customers can also enjoy deserts available, with the choice of either cheesecake pops at $2.45, or chocolate chip cookies for $1.95.
There are few employees, but they function well with the small amount given the environment, which is similar to that of a Chipotle. With a colorful and spacious design, the restaurant as a whole is aesthetically pleasing to see. The tables outside strangely leave a strong memory with the strong, vibrant, and yellow color, reminding you of the cheese.
Located in the Parkland Commons Shopping Center, it attracts many students from Marjory Stoneman Douglas High School due to the proximity and the rational prices for a delicious meal. I Heart Mac n Cheese is a growing chain in South Florida already situated in popular locations, like here in Parkland and in Fort Lauderdale.