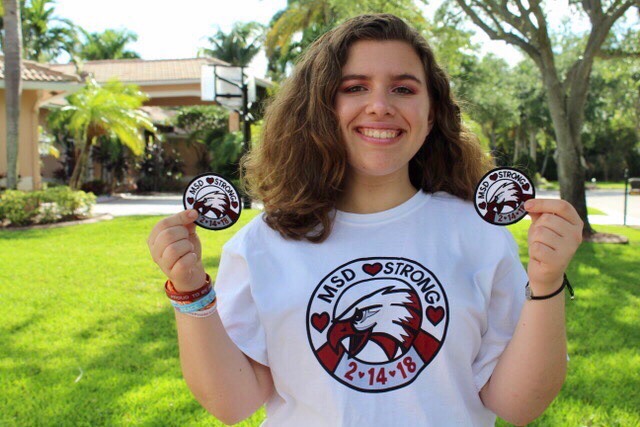 Soon after the tragedy on Feb. 14, sophomore Rachel Padnis felt a strong desire to show her support for the victims' families and the MSD community. After attending the rally in Tallahassee with her fellow classmates, she realized that being in that type of crowd was not in her interest. However, Padnis still wanted to show just as much consolation as her other peers were doing, but in a less direct way.
"I saw what my other classmates were doing," Padnis said. "However, I'm not as outspoken, and I don't like to be the center of attention, but I still felt a need to help in some way. I wanted to make a change in my own way."
Feeling stressed, Padnis's mother told her to relax, go to her room and draw something as a form of healing.
"All I could draw was something that represented MSD," Padnis said. "I started looking up things that represented our school, so I came up with a design."
Right after she came up with the design, her mother encouraged her to bring it to a local design studio and manufacturer, Phoenix Blueprints. The studio helped digitalize the design and worked with Padnis to make sure that the colors were right and everything was perfect.
Phoenix Blueprints also helped turn the design into patches and various shirts. The design studio went behind the scenes and helped organize stores like Bagel Land and Manhattan Bagel to participate in selling the shirts and patches.
"They didn't do it out of profit, they did it out of kindness," Padnis said. "It's really nice to have someone support you like that. Phoenix Blueprints and all of the other stores were really eager to support me."
The $5 patches and the $10 shirts started selling quickly. Phoenix Blueprints made 500 patches and produced even more shirts. Padnis sold some of the patches to students who wanted them at school, and Phoenix Blueprints helped sell the majority of them by putting them in various stores.
"I have raised over $1,000 just on my own, and Phoenix Blueprints has raised over $1,800," Padnis said. "I've actually seen my SAT prep instructor wear it the other day, and I have seen my shirts all around. Even Bagel Land ordered 100 or so more shirts after they sold out, so that shows how popular they are."
Padnis decided to donate the money that she earns from the patches and shirts that are sold locally to the MSD PTA. Padnis had a wide range people who wanted to support her and the cause. However, it became a problem when people who were not locals wanted the design too.
"I was getting a really positive response to the patches," Padnis said. "I did a CBS interview, and a lot of people from all over the world were contacting me of how they could support and buy some. We were trying to ship them, but it was so hard."
Because of this, Padnis recently decided to expand her design by making it available online. She decided to put her product on Redbubble, an online website that sells original designs on stickers, shirts and other products, because she noticed how many people have the Redbubble stickers on their laptops.
"The idea of the redbubble sticker had actually came up into my head when I first started selling my patches and shirts," Padnis said. "I thought, 'wow a lot of people have Redbubble stickers on their laptops and stuff,' so I thought it would be a great idea. I figured if I put it on Redbubble, then I could get it to more people."
However, getting the design online was harder than Padnis had anticipated. The default shape that Redbubble has to put a design in is a square, but Padnis's design is a circle, so she had to figure out a way to transform her idea to fit the designated template. After using numerous photo editing apps, Padnis eventually was able to crop the shape into a circle while still leaving the classic Redbubble blank border around her design.
After she got her desired look for her design on Redbubble, she turned it into stickers, shirts and all of the other items the website provides.
"I basically put my design on as many things that they provide," Padnis said. "There's drawstring bags, pencil pouches, various styles of shirts and various other items that I put my design on. There's also different sizes for each thing; my stickers come in four different sizes."
Because the products are online, Padnis wanted the organization in which the money was earned from the Redbubble design to be online as well. After much consideration, she picked Make Schools Safe Inc., which was created by Alyssa Alhadeff's family.
"My mom knows Alyssa's mom pretty well, so I wanted to support her cause," Padnis said. "I chose this instead of the victims' fund because the victims' fund is just very large, and I felt Make Schools Safe wasn't getting as much recognition. I just wanted to do my part in helping out."
Though beginning her online debut just a little over a week ago, Padnis has already been receiving a few orders each day. So far, she has received orders from about six different states.
In order to spread the message about her design, Padnis created flyers with a QR code that allows anyone with a phone to scan it and directly go to the Redbubble website with her products for sale. She reached out to the owner of the Instagram page, @msdcamo2, asking if he would be able to post these flyers on his account, which has nearly 11 thousand followers, in which he responded by posting it on his Instagram story. Padnis also created an Instagram page, @Stickers4SchoolSafety, in an attempt to garner more sales.
"I made this account to help me get the word out even more because almost everyone is constantly on social media," Padnis said. "It has tremendously helped me out already because I've gotten a few sales directly through social media."
Despite the polarization of talk related to Feb. 14, Padnis has found that her position on the issue is one of unity rather than politicization.
"I know everyone is taking different stances on this school safety issue, and I know that this is a good stance for me to take. I'm just hoping to get the word out more for anyone who would like to support," Padnis said.
Whenever she sees someone wearing her design, Padnis instantly feels overwhelmed by happiness. She describes how she has seen strangers sporting her designs, even at the most random times.
"I've actually approached people who I have seen wearing my shirt or design; it makes me so excited," Padnis said. "I tell them 'that's my shirt,' and they are like, 'oh my gosh.' It makes me really happy and proud that they want to support what I'm doing and the important cause behind it."
Padnis hopes to continue to make a difference by selling her products and providing relief to the Parkland community through art. To support her cause, people can purchase her "MSD Strong" design on redbubble.com.