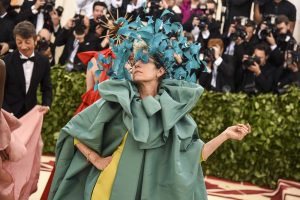 With unique fashion styles becoming more prominent as 2018 continues, this years Met Gala on May 7 was no exception. Formerly called the Costume Institute Gala, celebrities gather together for the annual event to raise money for the Metropolitan Museum of Art's Costume Institute in New York City.
This year's theme was "Heavenly Bodies: Fashion and the Catholic Imagination." Many celebrities donned elaborate headpieces, gold ball gowns and angel wings.
Acting as a style icon for the Met Gala, Rihanna floated to the top of every "best dressed" list after her appearance on the red carpet. Displaying a custom silver Maison Margiela gown with matching cape and papal mitre, or ceremonial headdress, Rihanna sparkled in diamonds from head to toe.
Another fan favorite was actress Blake Lively. She walked the carpet in a gold and maroon Versace gown complete with beads and an attached skirt. Completing the look, Lively wore a custom headpiece made up of 100 diamonds and custom Christian Louboutin heels.
No stranger to the Met Gala, the Kardashian-Jenners each showed off looks from opposite ends of the style spectrum. Kendall Jenner went the more angelic route, wearing a white off-the-shoulder top and matching pants designed by Virgil Abloh, while Kylie Jenner channeled the devilish side of Catholicism wearing a black strapless gown and silver sunglasses. Kim Kardashian completely diverged from her sisters' choices of fashion, wearing a gold Versace dress with Catholic crosses embroidered on.
Traditionally, most men wear a tuxedo to the Met Gala, but actor Chadwick Boseman followed the theme to a tee. He showed off a white Versace suit with a matching cape, complete with gold crosses. Boseman finalized his look with gold Louboutins and Bulgari jewelry.
Holding up the rear, actor Jared Leto made this year's "worst dressed" list. Dressing up as both Jesus and a priest, Leto was criticized that he looks the same "picking up his laundry" as at the Met Gala.
Also appearing on the worst dressed list is co-host of the event Amal Clooney. She wore a navy blue Richard Quin jumpsuit with a metallic corset-like top and a train made out of a flower print. However, her look was classified as underwhelming, compared to the other choices.
Coupled with bold fashion choices, the Met Gala is a night for celebrities to debut their relationships. Confirming rumors, singer Shawn Mendes and model Hailey Baldwin walked the red carpet together, making their first official appearance as a couple. Other celebrities attending the gala together as newer couples were Kylie Jenner and Travis Scott, Cole Sprouse and Lili Reinhart and Colin Jost and Scarlett Johansson.
Despite all of the praise surrounding this year's theme and costume choices, there has been some controversy about the Met Gala. Some people tweeted that the theme was disrespectful to the Catholic religion, and some celebrities took their clothing choices too far. However, the Catholic Church was aware of the theme for the event, and the organizers of the event stated that the theme was meant to be controversial.
Whether or not celebrities meticulously stuck to a theme or put their spin on things, there is always room for outfits to stand out or fall below all of the rest. While most A-list celebrities tend to go all out with their looks, a simple black gown could be the key to making the best dressed list. But, the closing of this year's Met Gala only leads to the planning of next year's couture.