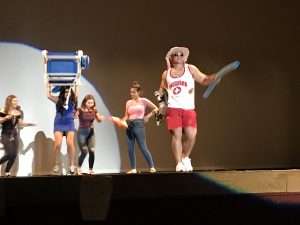 On Wednesday May 9, the Mr. Douglas beauty pageant took place in the Marjory Stoneman Douglas High School auditorium from 7 p.m. to 9 p.m. The event cost $5 at the door, and all proceeds went to the LED Dance Club and Mentoring Tomorrow's Leaders Club.
A contestant was chosen from each grade, and voting for the contestants occured the week before the event. The contestants were senior Jonathan Curtis, junior Robert Mandacheschu, sophomore Justin Trimboli and freshman Nick Hernandez.
The pageant consisted of a swim wear contest, a stand-up comedy performance and a talent portion. Contestants had to create their own presentations and entertain the audience, which were judged by English teachers Maria Perez Chelsea Briggs and Christopher Mattox.
"My favorite part was when Jonathan skated across the stage in a giant T-rex costume while on roller blades. He is a close friend of mine, so it was really funny to see him showing off his funny personality on stage. When he came on, the crowd went wild and nobody could stop laughing," junior Jonathan Van Arsdale said.
Halfway through the show, the LED Dance Club performed to entertain the audience while the contestants prepared for their next portion.
"I thought the performance by the LED Dance Club was super cool, and I loved watching it," junior Mia Freeman said.
After the second half of the show, the judges described their final opinions, and the winners were announced by the hosts, juniors Walincove Mompremier and Noah Parness.
Curtis came in first place, winning the $100 prize money, followed by Mandacheschu in second place, earning $75,Trimboli in third with $50 and Hernandez in last, receiving $25 for participating.
Despite the event being the first of its kind at MSD, the event went off without a hitch, gaining approval from much of the audience.