NYU now offers free tuition for medical school
Bianca Navas
September 7, 2018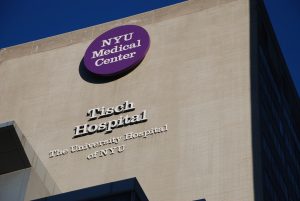 New York University made a bold decision this August to give free tuition to all of their medical students.
NYU is the first college to offer this tuition plan, They want it to become a solution to the problem the American medical field is facing: shortage of essential healthcare jobs.
With approximately $55,000 tuition annually, NYU realizes the massive debt around 62 percent of students face, which for the graduating class of 2017 was around $184,000. In order to pay off these debts, most graduates search for higher paying jobs such as plastic surgery, which pays around $270,000 annually, while pediatricians only receive $175,000 annually. This causes a huge shortage of important community healthcare jobs such as pediatrics, primary care, and obstetrics. Now, NYU is taking the lead in attempting to solve this issue.
"This decision recognizes a moral imperative that must be addressed, as institutions place an increasing debt burden on young people who aspire to become physicians," said Robert I. Grossman, dean of the NYU medical school, to The New York Times.
The incentive of free tuition is a great way of making medical students all over the United States interested in applying to NYU. One such student is junior Amanda Brotton from Marjory Stoneman Douglas, who is interested in a career in the medical field.
"Although I'm interested in great colleges like NYU, without Florida prepaid it'll be almost impossible for me to go out of state without becoming ridiculously in debt," Brotton said "The thought of having the chance to go to such an awesome school without worrying about debt is just incredible".
The plan to allow free tuition is almost 11 years in the making. NYU created many donation opportunities and fundraisers, working hard to fund this plan. NYU also received a $100 million donation from billionaire Kenneth Langone, who is propelling the project forward. The University  has been able to raise more than $450 million, but they need an estimated $600 million to fully fund the project.
This plan will cover the tuition of 93 first year students and another 350 students that have up to three years left before receiving their degree. Once new students enroll, NYU is hoping that they can extend the program to them as well. However, these students still pay for their own room and board, which combined is about $27,000 on average.
NYU  is the first university to attempt this project because of the massive amount of money required for funding, which makes  NYU the first university to attempt it. However many colleges have also tried to support students in their medical programs as well. One example is UCLA's David Geffen School of Medicine and their $100 million fund to pay for all four years of medical school with all inclusions for about 20 percent of its students. The flaw is that the program was based on merit and not need.
NYU will continue funding the project, and hopefully take the first step in changing the way colleges charge their students which will provide the the opportunity to take up important medical jobs that communities all over america need.