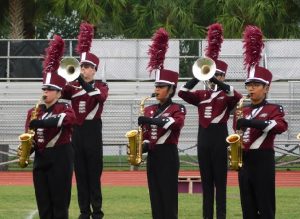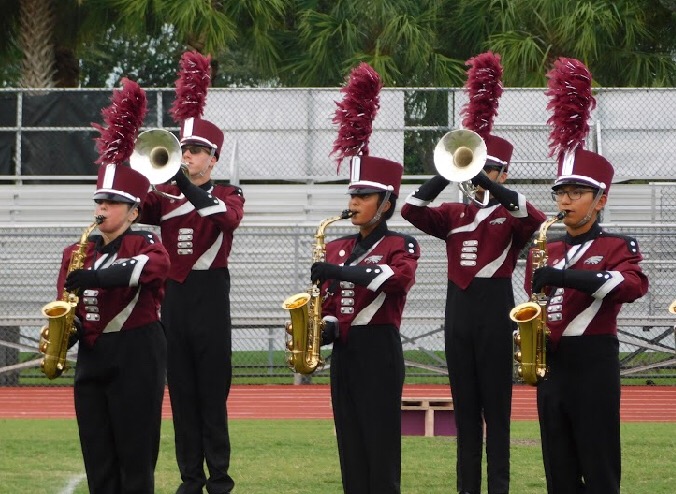 *Co written by Kaleela Rosenthal and Brianna Jesionowski
On Friday, Aug. 31, the MSD Eagle Regiment started off their annual fundraising event, Pops and Pies. They performed their show "Beyond" on the home football field at 6:30 p.m. for the first time this season. The event was later moved to the cafeteria where soda "pops" and pizza "pies" were served, hence the name "Pops and Pies."
As their first performance of the season, tensions were high and months of intense training at summer band camp had all led up to this. Friends and family from the Parkland community came to show their support including Parkland mayor, Christine Hunschofsky.
The performance began on the football field with a quick tuning of instruments. Sophomore Jeremy Wechsler, junior Angelina Brier, and senior Nico Fraser prepared to conduct an excerpt of the show "Beyond." The goal of the piece is for it to speak to the audience and fill them with emotion.  
"The audience needed to look deep within themselves and think about what was beyond that moment," band director Alex Kaminsky said.
As the marching band played, the color guard danced in unison. With their swift movements and blue flags twirling in the air, the color guard brought the music to life.
"Every day was used as an advantage to learn new techniques to become an even better Eagle Regiment than the day before," sophomore Ava Cunningham said.
Although, with all the long hours at band camp and heaps of homework assignments against them during the beginning of the school year, practice is the regiment's main priority. Almost all of the regiment members have been playing since middle school and have created strong bonds amongst each other.
"All these practices and long hours put in will truly help us succeed in national and state competitions later in the year," said sophomore Ryan Shinn.
This was the Eagle Regiment's first time performing their new ballet with their marching uniforms on the football field.
"It's a weird change because we moved from the pavement to the grass which is a totally different texture," sophomore Alexa Palen said.
The Eagle Regiment is looking forward to the Bands of America regional competition in Orlando on Oct. 13 where bands from all over the southeast are competing.