Review: Bohemian Rhapsody leaves fans in awe
Mallory Muller
December 11, 2018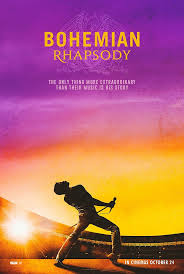 The song, Bohemian Rhapsody, was originally released in 1977 and has been back on the charts these past couple of weeks, currently holding the spot at number 50. Undoubtedly that is due to the popularity of the dramatic biography Bohemian Rhapsody directed by Bryan Singer which reveals the story behind the making of the band Queen and the secret life of Freddie Mercury.
The legend Freddie Mercury is a character himself. Born Farrokh Bulsara, Mr. Mercury was a rockstar persona that Bulsara created in the early 70s when he began singing lead for the band Queen, following his love life and relationships made and lost along the way.
Anyone familiar with Mercury's flamboyant attitude and his powerful voice know that whoever has to play him in a movie has big shoes to fill. Rami Malek, known for his roles in Twilight and Night at the Museum, played the iconic role of Mercury and did an exceptional job.
Aside from the phenomenal costumes and makeup, which created an uncanny resemblance between the two, Malek mimicked Mercury so much so that he hired not only a choreographer, but also a movement director so that he could nail every aspect of the lead singers physical tendencies.
Mike Meyers was nearly unrecognizable with loads of makeup and costume portraying record producer Ray Foster. The film was produced by Robert De Niro and Jim Beach who was Queens band manager.
Opening week did not go as well as expected, making just over $50,000,000. Most likely due to the fact that it was a major week in politics and many Americans were busy voting. Currently, as of Tuesday, Nov. 26, the film has made $153,118,252.
The movie goes through all of Queens ups and downs, breakups and makeups. Its timeline is not accurate and that has upset many hardcore Queen fans, but other than that, the film will leave you both laughing and crying.
The movie evoked so much emotion that many went to go see it a second time, and were just as much awe as the first time viewing it.
The movie accurately represented the relationship the band shared with both each other and their fans.